Happy Halloween! Looking for something spine-tingling, hair-raising, or soul-chilling to scare yourself with? Then look no further. The six books below have varying levels of spookiness, but all of them feature one of the best Halloween creatures, the always scary ghost! See what kind of ghostly fright looks exciting, then visit the library to explore further.
The Graveyard Book by Neil Gaiman
In this Newbery Medal-winning novel, Bod is an unusual boy who inhabits an unusual place–he's the only living resident of a graveyard. Raised from infancy by the ghosts, werewolves, and other cemetery denizens, Bod has learned the antiquated customs of his guardians' time as well as their ghostly teachings, such as the ability to Fade so mere mortals cannot see him. Can a boy raised by ghosts face the wonders and terrors of the worlds of both the living and the dead?
Ghost Hunting by Jason Hawes and Grant Wilson
The Atlantic Paranormal Society, also known as T.A.P.S., is the brainchild of two plumbers by day, paranormal investigators by night: Jason Hawes and Grant Wilson. Their hair-raising investigations, fueled by their unique abilities and a healthy dose of scientific method, have made them the subject of a hit TV show: the SCI FI Channel's Ghost Hunters. Now their experiences are in print for the first time, as Jason and Grant recount for us the stories of some of their most memorable investigations. The men and women of T.A.P.S. pursue ghosts and other supernatural phenomena with the most sophisticated scientific equipment available — from thermal-imaging cameras to electromagnetic-field recorders to digital thermometers — and the results may surprise you. Featuring both cases depicted on Ghost Hunters and earlier T.A.P.S. adventures never told before now, this funny, fascinating, frightening collection will challenge everything you thought you knew about the spirit world.
The Seance by John Harwood
London, the 1880s. A young girl grows up in a household marked by death, her father distant, her mother in perpetual mourning for the child she lost. Desperate to coax her mother back to health, Constance Langton takes her to a seance. Perhaps they will find comfort from beyond the grave. But the seance has tragic consequences. Constance is left alone, her only legacy a mysterious bequest that will blight her life. So begins The Seance, a gripping, dark tale set in late Victorian England. It is a world of apparitions, of disappearances and unnatural phenomena, of betrayal and blackmail and black-hearted villains – and murder. For Constance's bequest comes in two parts: a house, and a mystery. Years before, a family disappeared at Wraxford Hall, a decaying mansion near the Suffolk coast. Now Constance must uncover the Hall's secrets, even at the cost of her life. What she discovers there, as she descends into the darkness at the heart of the mystery, will bring her face to face with her own deepest terrors and desires.
The Woman in Black by Susan Hill
A classic ghost story: the chilling tale of a menacing specter haunting a small English town. Arthur Kipps is an up-and-coming London solicitor who is sent to Crythin Gifford–a faraway town in the windswept salt marshes beyond Nine Lives Causeway–to attend the funeral and settle the affairs of a client, Mrs. Alice Drablow of Eel Marsh House. Mrs. Drablow's house stands at the end of the causeway, wreathed in fog and mystery, but Kipps is unaware of the tragic secrets that lie hidden behind its sheltered windows. The routine business trip he anticipated quickly takes a horrifying turn when he finds himself haunted by a series of mysterious sounds and images–a rocking chair in a deserted nursery, the eerie sound of a pony and trap, a child's scream in the fog, and, most terrifying of all, a ghostly woman dressed all in black.
Collected Ghost Stories by M.R. James
Considered by many to be the most terrifying writer in English, M. R. James was an eminent scholar who spent his entire adult life in the academic surroundings of Eton and Cambridge. His classic supernatural tales draw on the terrors of the everyday, in which documents and objects unleash terrible forces, often in closed rooms and night-time settings where imagination runs riot. Lonely country houses, remote inns, ancient churches or the manuscript collections of great libraries provide settings for unbearable menace, from creatures seeking retribution and harm. These stories have lost none of their power to unsettle and disturb.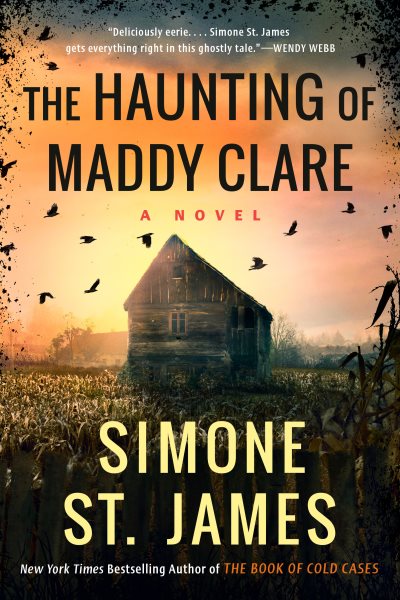 The Haunting of Maddy Clare by Simone St. James
In 1920s England, a young woman of limited means and even less experience confronts the ghost of a mysterious serving maid…. Sarah Piper's lonely threadbare existence changes when her temporary agency sends her to assist a ghost hunter. Alistair Gellis–rich, handsome, scarred by World War I, and obsessed by ghosts–has been summoned to investigate the spirit of the nineteen-year-old maid Maddy Clare, who is said to haunt the barn where she committed suicide. Maddy hated men in life, and she will not speak to them in death. But Sarah is unprepared to go alone into a haunted barn looking for the truth. She's even less prepared for the arrival of Alistair's associate, rough, unsettling Matthew Ryder, also a veteran of the trenches, whose scars go deeper than Sarah can reach. Soon, Sarah is caught up in a desperate struggle. For Maddy's ghost is no hoax–she's real, she's angry, and she has powers that defy all reason. Can Sarah and Matthew discover who Maddy was, where she came from, and what is driving her desire for vengeance…before she destroys them all?