This week was Banned Books Week, a week dedicated to raising awareness of the challenges to books in schools and libraries that still occur all over the country. This year Banned Books Weeks highlighted the frequent challenges and controversies that surround comic books and graphic novels. With Captain Underpants, a children's graphic novel, as the most challenged book in America last year and Bone, another graphic novel, taking the number ten spot, it's clear that comic books and graphic novels are still surrounded by controversy. Whether you're a graphic novel aficionado or a comic book newbie, here's a list of great graphic novels and comic books from the library. Celebrate the freedom to read by picking up a graphic novel!
Hellboy by Mike Mignola
Hellboy was summoned to earth from hell in 1944 by Nazis as a baby demon. He was discovered shortly after by Allied forces and raised as a normal child. Now an adult, Hellboy works with the Bureau for Paranormal Research and Defense (B.P.R.D) investigating and stopping paranormal crimes committed by characters drawn from legends, fairy tales, literature, and history, running from Nazi occultists to Baba Yaga. Along the way Hellboy learns more about who he really is and why he's here. This series is complete at twelve volumes beginning with Seed of Destruction, though there are several spin-off series dealing with other Hellboy adventures and the B.P.R.D. that extend the world.
Batman: Year One by Frank Miller
Here is the story of Bruce Wayne's return to Gotham and his transformation into Batman. Miller touches on Bruce Wayne's first encounter with the prostitute Selena, who will become Catwoman, new policeman Jim Gordon's struggles against the corruption of the Gotham police force, and Batman's first forays into vigilantism. In this re-imagining of the Batman origin story, Miller creates characters with depth and feeling in a story that both humanizes and elevates the Batman mythos and create a fascinating introduction for fans both old and new. A complete story, originally told in four comic books, gathered together in this one volume.
The League of Extraordinary Gentlemen by Alan Moore
It's 1898 and in a steampunk Victorian England Mina Murray is recruited to form a group of similarly extraordinary people to protect the British Empire. Characters from many different literary works are collected into the league including Allan Quatermain, Captain Nemo, Dr. Jekyll and Mr. Hyde, and the Invisible Man. Each of them has unique intellectual and physical gifts that helps them to protect Britain from any number of enemies including Professor Moriarty and Fu Manchu. The main story is two volumes, with several other stories about the League available as well.
Bone by Jeff Smith
Along with his cousins Smiley Bone and Phoney Bone, Fone Bone is kicked out of Boneville and travel through the desert until the come to the deep forests of the human realm, called The Valley. Here the three cartoon bones become embroiled in the lives of the residents of The Valley, making many friends and encountering strange creatures, and eventually finding the courage and strength to embark on a quest to help the humans fight the terrible Lord of Locusts.  Though often marketed towards children, this funny and adventure-filled story is so well-written and exciting that it is a great read for adults as well. A completed nine-volume series, the story of Bone begins with Out from Boneville.
Saga by Brian Vaughn
A fantasy, sci-fi mash-up space opera of epic proportions, Saga tells the story of two soldiers from opposite sides of an intergalatic war who fall in love and have a child together. Alana and Marko are pursued across the galaxy by a variety of different characters from both sides of the war, intent on breaking them apart and destroying their blasphemous child. Wickedly funny and smart, filled with battles, moral dilemmas, and sex, this is definitely an adult series, but one that while dealing with members of many different alien races in outer space, ultimately center on the very human issues of love, parenthood, and forgiveness. Currently three volumes long with each volume containing six issues of the comics, this series is still ongoing and in comic form is available through issue 23.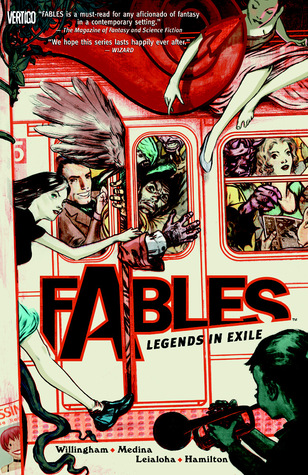 Fables by Bill Willingham
Snow White, The Big Bad Wolf, Jack, and Rose Red, along with just about every other fairy tale character you can think of are living in exile in the human realm ever since a character known as The Adversary has taken over their fairy tale realms and sent them into exile. The series begins focused on their struggles in the human world, and gradually widens in scope as we get to know the characters to their ongoing fight against The Adversary. With well-known characters turned on end, plenty of mystery, and a great deal of heroism, Fables has a little something for everyone. Currently twenty published volumes, the series will be wrapping up in 2015 with the publication of two more volumes. There are also three different spin-off series called Jack of Fables, Cinderella, and Fairest.