Bon Appetit! Preschool Storytime
Last Saturday, we did a storytime that worked up an appetite, with stories, lots of dancing and movement, and yummy, funny reads!
I did a short puppet show narrating the classic book The Little Mouse, The Red, Ripe Strawberry and the Big, Hungry Bear by Don and Audrey Wood. I used a puppet for the mouse and the kids helped me trick the mouse and convince him that there really is a big, hungry bear going tromp, tromp, tromp on big, hungry feet.
When I previously performed this puppet show for a toddler group I recorded it. Here it is:
Books We Shared
The Woodpecker Wants a Waffle by Steve Breen features a woodpecker with a dream. All Benny wants is just one maple-syrupy waffle… But he keeps getting kicked out of the diner, and laughed out of the forest by the other animals. Fortunately, Benny has a plan to show them all!
Hungry Bunny by Claudia Rueda is an interactive kind of book with prompts to touch, blow or tilt the pages, with the goal of helping the bunny reach the apples and get home in time for dinner.
I Won't Eat That by Christopher Silas Neal was an instant favorite as soon as I read it! The sour, picky cat's voice is just deliciously fun to read. In it, a picky eater cat interviews other members of the animal kingdom to find out what they eat.
Flannelboard
Five Red Apples
Five red apples hanging on a tree
Big and red and so shiny
Along came a worm with a hungry tummy
And he ate one apple off of the tree!
Music from CDs
"Popcorn" from Shining Like a Star by Laura Doherty
"Song in My Tummy" and "I Know a Chicken" from The Best of the Laurie Berkner Band
Rhymes We Shared Without CD
Magic Finger
Magic finger in the air
Magic finger on my hair
Magic finger on my hip
Magic finger on my lip… Shhh!
Goodbye, Friends
Goodbye, friends
Goodbye, friends
Goodbye, friends
It's time to say goodbye
(Video here: https://www.youtube.com/watch?v=bLxJMHY7p3I)
Film We Watched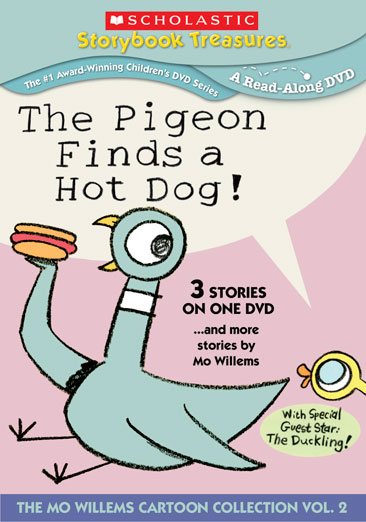 We watched The Pigeon Finds a Hot Dog, based on the book by Mo Willems.
 Continue the Fun
Here are some more books about food to check out at your Pasadena Public Library Branch: