Read Around the World is a new book club we've started for 3rd – 5th graders. Each month the kids read a novel set in another part of the world, and come to the library to complete challenges, do crafts, play games or solve puzzles, as well as to discuss the major themes and meanings of the book. For January, the kids were assigned to read Where the Mountain Meets the Moon by Grace Lin.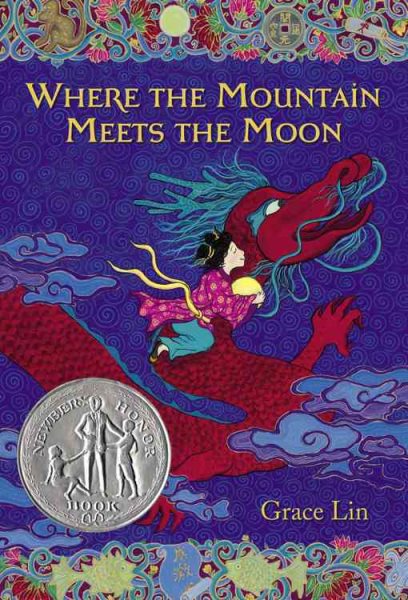 This incredibly beautiful Newbery Honor book weaves together many different traditional folktales from China in a story about a girl who sets off on a journey to help her parents and village, who are all struggling with poverty. The characters she meets along the way have connections to each other and to folktales in interesting ways.
We started the evening with a puzzle activity for which we formed teams. This is also a great ice breaker to get the kids paired up at random with other kids and get them talking and working together. Each team was given a bag of items. They had to go around the room to different stations numbered 1 – 10, and at each station they had to either put something from their team's bag into the station bag, or take something out of the station bag.
At the 9th station, they were asked to take what they had left over and make something that would carry a message to the Old Man of the Moon — a kite!
Here's everyone with their kites!
This activity was followed by a discussion of the book, and the kids seemed to especially love the ways that the characters (like Ma, for example) change throughout the story. We had a great chat using the following questions:
Does anybody else wish they had a wise goldfish that could tell you what people mean when they aren't saying how they feel? I do!  In Chapter 20, Ma offers to carry the goldfish bowl for Ba, and Ba is about to decline her offer when the goldfish advises him: "It's her way of saying she's not angry anymore."  How do people in your family say they are not angry anymore?  How people in your family say they are sorry?
How do Ba and Ma's relationship change throughout the novel?
What does it mean that the secret of happiness is thankfulness? And are there any other words you would use? Ba says he used to think it was kindness, but at one point he begins to think it was "faith."  What word do you think people could say to remind themselves to do whatever was needed in order to be happy and harmonious?
Throughout the book, Minli is helped by the kindness of others and is also rewarded for her willingness to show kindness to the king disguised as the beggar man.  Talk about a time when you were surprised by the kindness of others, when somebody did something for you that left an impression on you.
Minli signed her note to her parents "Love, your obedient daughter." Was she being obedient?
What did you think of Ma's story?
Ma comes to realize that her constant complaining and resentment has planted seeds of discontent in her daughter. Do you agree?  Is it possible that everything mothers do plants a seed of some kind in their children?
Ma says stories are worthless, but stories play an important role in Minli's life. How do stories help Minli and others reach their goals?  How do they help characters change and develop throughout the book?  Do you think stories are important?
Of the many stories told in the book, which one was your favorite?
If you liked this book, I really hope you will be able to join us on Monday (Jan. 17th) for another fun activity celebrating Chinese culture. We will be making lovely red and gold Lunar New Year banners with a guest from the USC Pacific Asia Museum who will instruct us on how to make them. It'll be Jan. 27th at 3:30 pm in the Story Room (same place as our meetings).
I also hope you all can join us for another fun Read Around the World book discussion when we discuss The Boy Who Harnessed the Wind by William Kamkwamba of Malawi (in Africa), on February 13th! We'll be making one of the things he made in the book — cars! And our cars will be powered by wind! Books are available for checkout from the Circulation Desk, so come by whenever you have a chance. Thanks!