Books
The Strange Case of Origami Yoda by Tom Angleberger 
Sixth-grader Tommy and his friends describe their interactions with a paper finger puppet of Yoda, worn by their weird classmate Dwight, as they try to figure out whether or not the puppet can really predict the future.
Captain Underpants and the Invasion of the Incredibly Naughty Cafeteria Ladies from Outer Space  by Dav Pilkey
In the third Captain Underpants adventure, presented here in full color, George and Harold have played a trick or two on nearly everyone at Jerome Horwitz Elementary, so when their latest prank causes the school's cranky cafeteria ladies to quit, Mr. Krupp hires a trio of unusual replacements—who happen to look an awful lot like aliens!
The one and only Ivan by Katherine Applegate
Inspired by the true story of a captive silverback gorilla known as Ivan, this stirring and unforgettable novel celebrates the transformative power of unexpected friendships. Having spent twenty-seven years behind the glass walls of his enclosure in a shopping mall, Ivan has grown accustomed to humans watching him. He hardly ever thinks about his life in the jungle. Instead, Ivan occupies himself with television, his friends Stella and Bob, and painting. But when he meets Ruby, a baby elephant taken from the wild, he is forced to see their home, and his art, through new eyes.
Wallace and Grace Take the Case by Heather Alexander
In this charming series, perfect for newly independent readers, kids will be treated to simple whodunit mysteries as an utterly delightful owl duo put their heads together. In their first adventure, Wallace and Grace meet a rabbit who is sure he saw a ghost! But the clues lead them in a different direction. Something is spooking the garden . . . can Wallace and Grace solve this case?
Charlie and The Great Glass Elevator by Roald Dahl
Taking up where "Charlie and the Chocolate Factory" leaves off, Charlie, his family, and Mr. Wonka find themselves launched into space in the great glass elevator.
Wonder by R.J. Palacio
Auggie Pullman, who was born with extreme facial abnormalities, goes from being home-schooled to entering fifth grade at a private middle school in Manhattan, which entails enduring the taunting and fear of his classmates.
Captain Underpants and the Sensational Saga of Sir Stinks-a-lot by Dav Pilkey
George, Harold, and their doubles have been taking turns going to school, but when the doubles fall prey to their gym teacher's method of mind-control obedience, it is up to George and Harold to strike back.
The Phoenix of Destiny: an epic Kingdom of Fantasy adventure by Geronimo Stilton
Returning to the Kingdom of Fantasy, Geronimo Stilton becomes alarmed when Blossom, Queen of the Fairies, behaves strangely and sends him on increasingly dangerous magical quests.
Princess Labelmaker to the Rescue! by Tom Angleberger
Warring against the test-prep oppression of the FunTime Menace, the heroes of McQuarrie Middle School ally themselves with Principal Rabbski, who is being drawn to the dark side. By the award-nominated author of Darth Paper Strikes Back.
Quest for Paradise : The Return to the Kingdom of Fantasy by Geronimo Stilton
In a full-color hardcover adventure, the Queen of the Fairies invites Geronimo back to her fantastical world to help in the quest for the true heart of happiness; this time Geronimo rides on the wings of a rainbow-colored dragon as he makes his way through seven fantastic lands–from the land of sweets to the land of fairy tales, it's an incredible journey he'll never forget.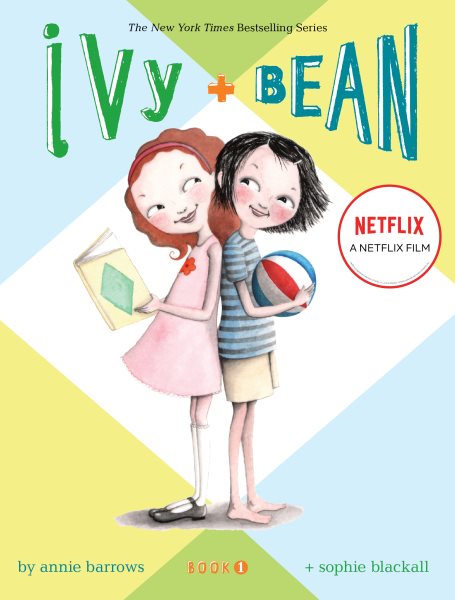 Ivy + Bean by Annie Barrows
When seven-year-old Bean plays a mean trick on her sister, she finds unexpected support for her antics from Ivy, the new neighbor, who is less boring than Bean first suspected.
Dorko the Magnificent by Andrea Beaty
Loving magic but struggling to make his tricks work correctly, young Robbie discovers that his crotchety visiting grandmother was once an internationally renowned magician who suffered heartaches that turned her into a bitter woman, a discovery that leads to an uneasy alliance and a final disappearing act.
Alice's adventures in Wonderland by Lewis Caroll
A one hundred and fiftieth anniversary edition of the beloved classic about a little girl who tumbles down a rabbit hole features rarely seen illustrations by Salvador Dalâi that illuminate the surreal yet curiously logical and mathematical realm into which Alice famously falls.
The land of stories: The wishing spell by Chris Colfer
Through the powers of a book of stories, twins Alex and Conner leave their world behind and find themselves in a land full of wonder and magic where they come face-to-face with the fairy tale characters they grew up reading about.
When Leroy Ninker, a thief who longs to be a cowboy, robs the Watson's house, in which a rather large pig with keen skills of detection, lives, he gets the ride of his life!Mercy Watson fights crime by Kate DiCamillo
Transformers Armada: The Uprising
Forgetting their rivalry, Autobots and Decepticons join together in the face of a cosmic enemy–Unicron.
The Force Oversleeps by Jarrett Krosoczka
Disappointed when her best friend gets the lead in the year's musical, Jedi Academy sophomore Victor Starspeeder dreads his protective older sister's approaching graduation and contemplates returning to his class-clown behavior. By the award-winning author of Lunch Lady and the Cyborg Substitute.
Prince Caspian: The return to Narnia by C.S. Lewis
Four English children return to Narnia to help the dwarfs battle the evil forces which have seized the kingdom.
A crazy day with cobras by Mary Pope Osbourne
A latest Magic Tree House adventure finds Jack and Annie traveling to India, where they find themselves battling cobras and riding wild elephants, in an adventure published to coincide with the release of the Research Guide companion, Snakes and Other Reptiles.
High time for heroes by Mary Pope Osbourne
Jack and Annie travel back in time to Egypt and meet Florence Nightingale, who is on the trip that will influence her life and the decisions that will make her famous.