Infant Toddler Storytimes – July 29 – Frogs!
FROGS!!!
Did you know that froggies jump high and froggies jump low?  (Great way to reinforce our opposites.)
And did you know that they eat flies???  (Already introducing next week's theme-bugs.)
And did you know that they can be very curious about what OTHER animals eat?   (Hint:  Curiosity isn't only dangerous for cats!)
There was a lot going on in our storytimes about frogs today!  We had quite a bit of hopping and ribbiting which made for a jumpin' good time!
Here are SOME of the books and activities we shared: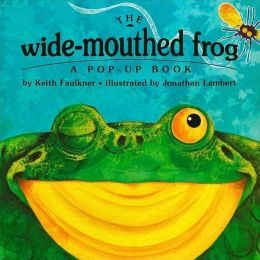 For Infants:
Songs:  Welcome Song, Hello Babies (in sign), Twinkle Twinkle Little Star, Itsy Bitsy Spider, Goodbye Babies (in sign)
Bounces for infants:  Dickery Dickery Dare, The Grand Old Duke of York, This is the way the Ladies Ride…Trit Trot to Boston
Nursery Rhyme Flannel:  Twinkle, Twinkle  Little Star…
Tickle:  Round and Round the Garden…
Action Song:  Clap Tap and Bend
 For Toddlers:
Flannelboard: 
Five Little Froggies Sitting on a Well
Five little froggies sitting on a well
One looked up and DOWN he fell
Froggies jump high, froggies jump low
How many froggies left sitting in a row
1, 2, 3, 4…
Four little froggies sitting on a well…
(Continue with 4, 3, 2, 1)
 Action Rhyme:
Little Green Frog (For Infants & Toddlers)
(Action Song!  Actions in [ ]'s)
Mm, Mm went the little green frog one day,

Mm, Mm went the little green frog,

Mm, Mm went the little green frog one day,

And they all went Mm, Mm, Aahh!
 [stick tongue out on 2nd "Mm" and open mouth wide for Aahh!]
But we all know frogs go, [CLAP]
Lahdeedahdeedah! [CLAP]
Lahdeedahdeedah! [CLAP]
Lahdeedahdeedah!
We all know frogs go, [CLAP]
Lahdeedahdeedah!
They don't go [stick tongue out on 2nd "Mm" and open mouth wide for Aahh!]

Other action rhymes/fingerplays for toddlers:  Open Shut Them, This is Big, My Head My Shoulders My Knees My Toes 
Songs:  Clap Your Hands (Wiggleworms CD), Twinkle Twinkle Little Star, Itsy Bitsy Spider, Big Gigantic Spider, Hello & Goodbye Babies (in sign)
DVD:  Where's the Frog (For Toddlers)
Other fun frog books: