Today our theme was intended to be about audience participation and recapping past songs and rhymes. I printed out some of the songs we've done in the past, and put a couple of new ones on there. I put up a display of some of the books we read in the past. I think originally I planned for families to choose a book and read it together individually at some point… But I didn't feel like we had time in the end.
Books We Shared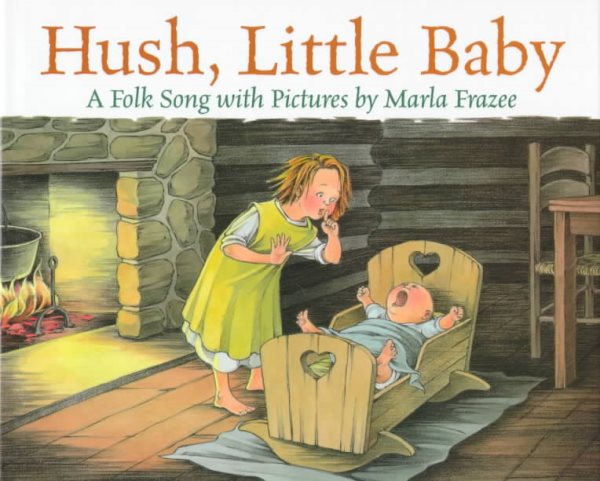 We read Hush, Little Baby, an old lullaby illustrated humorously by Marla Frazee.
Then, we read another book based on that lullaby: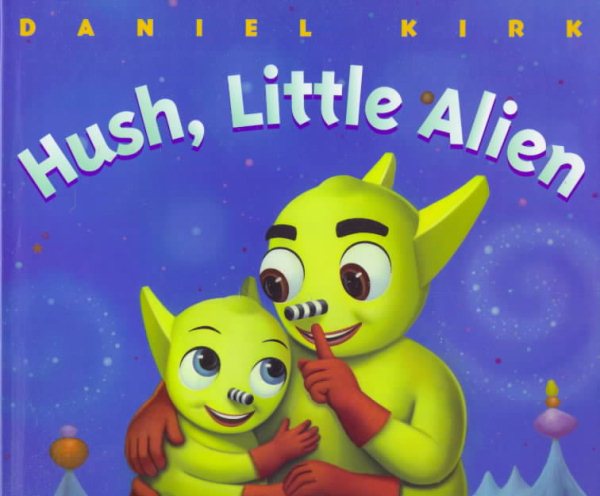 Hush, Little Alien by Daniel Kirk has large, imaginative pictures showing the love of a green alien dad, and it can be sung! I recently attended a storytime workshop about the value of "singing" books. It slows the words down so that people learning the language can read them. It also slows things down so that small children can develop print knowledge. And, there is research that shows kids love hearing their parents sing! (Whether we hold our own voices in such high esteem may be a different matter!)
We also read a modern song: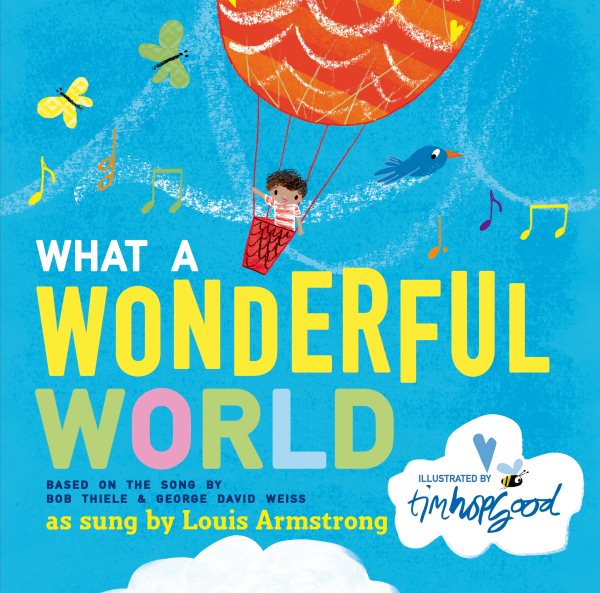 What a Wonderful World based on the song by Bob Thiele & George David Weiss (as sung by Louis Armstrong) and illustrated by Tim Hopgood, is a very book for singing to!
---
Letter of the Day
Our Letter of the Day was R, for "recap" and "remember" and "read." We made "the world's biggest R" in the air and talked about words that start with that letter.
---
Action Songs & Bounces We Shared
Flea
On my toe there is a flea
Now he's climbing on my knee
Past my tummy, past my nose
On my head where my hair grows
On my head there is a flea
Now he's climbing down on me
Past my tummy, past my knee
On my toe… Take that, you flea!
One Bright Scarf
One bright scarf waiting for the wind to blow
Toss it up high, and wave it down low
Wiggle it fast, and wiggle it slow
(then cover your face)
Hey! Where did everybody go?
(lift up scarf) There you are!
Engine, Engine
Engine, engine number 9
Coming down Chicago Line
If the train goes off its track
Do you want your money back?
Yes? (sway to the side)
No? (sway to the other side)
Maybe so? (sway back and forth)
Peekaboo
Peekaboo, where are you
hiding in your… PLACE! PEEKABOO!
Peekaboo, I see you
and your smiling… FACE! PEEKABOO!
Icky Bicky Soda Cracker
Icky Bicky Soda Cracker
Icky Bicky Boo
Icky Bicky Soda Cracker
Up goes you!
Icky Bicky Soda Cracker
Icky Bicky Boo
Icky Bicky Soda Cracker
I love you!
You Be the Ice Cream
You be the ice cream, and I'll be the freezer
You be the lemon, and I'll be the squeezer
You be the hot dog, and I'll be the bun
You be the baby, and we'll both have fun!
Goodbye Babies (song in sign)
Click here for video:  Goodbye Babies (Friends)
Goodbye babies, goodbye babies
Goodbye babies, it's time to say goodbye.
---
Music from CDs We Shared
Did you know singing and dancing improve brain function?  Here are some of the songs/dances on CD that we used in storytime to power up our early literacy with some great blood flow!
"Clap Everybody and Say Hello" from Sally Go Round the Sun by Kathy Reid-Naiman
"Ladies Ride" from Wiggleworms Love You by Old Town School of Folk Music
"Smooth Road to London Town" from A Smooth Road to London Town by Kathy Reid-Naiman
"Goodbye in the Bayou" from Bon Voyage by Jazzy Ash
"Goodbye Song" from Shining Like a Star by Laura Doherty
---
Continue the Fun
For more picture book versions of songs, check here.
If you ever want to learn some more fingerplays and songs to do with your kids, please check out the videos on our Fingerplay at PPL site. There are tons of fingerplays there, in several different languages!
It was such a joy to have all of you in storytime. Hope you can come next week to see Angie Donkin perform in our auditorium at 10 am on Tuesday, Dec. 10th!
I wish you all a very happy holiday season!