Today, we shared stories about creative crayons while learning about working together, diversity, identity, creating stories, images, and new colors!
Stories
 Frankencrayon by Michael Hall: If the crayons cannot stop the scribble monster, this picture book and the play "Frankencrayon" may have to be canceled.
 Monsters Love Colors by Mike Austin:  Playful monsters combine their favorite crayons, red, yellow, and blue, to create new colors, including one never before seen.
 Red: A Crayon's Story by Michael Hall: Red's factory-applied label clearly says that he is red, but despite the best efforts of his teacher, fellow crayons and art supplies, and family members, he cannot seem to do anything right until a new friend offers a fresh perspective.
Flannelboard
"I Have 10 Crayons", a counting flannel board that includes adding and subtracting.
"The Crayon Box That Talked" based on the picture book by the same title by Shane DeRolf; You'll never look at a box of crayons the same after reading this story. It's a profound story filled with philosophical life lessons and expressive illustrations. DeRolf cleverly uses this everyday tool of children's play as a metaphor for the classroom community, or even society at large! A box (classroom/society) full of crayons (people) each a different color (different races, religions, cultures, traditions and a multitude of characteristics) don't like each other for no actual reason. A little girl changes that by drawing a picture using each crayon and creates something beautiful! This sends a clear and powerful message about how valuing diversity and working together is what makes life joyful and complete. DeRolf's simple rhyming words coupled with Letzig's emotive child-friendly illustrations, are a perfect pairing for children of all ages.
Film
"Harold's Fairy Tale" from the DVD Harold and the Purple Crayon.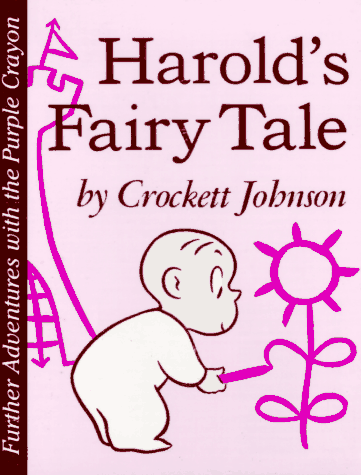 With his purple crayon Harold draws his way into an enchanted garden troubled by a giant witch.
---
Preschool Storytime 5/28/2016, Central Library