Infant & Toddler Storytimes: Music & Song
With the first storytimes for the Summer 2015 Infant Toddler Storytime series I wanted to highlight the theme of this year's Summer Reading Challenge – Read to the Rhythm.  All the stories we shared incorporated some type of singing or music.
And don't forget, sharing stories during the Summer counts for our Summer Reading Challenge!  So even though your infants and toddlers aren't reading yet, as long as you read to them you can sign up for our Summer Reading Challenge and earn fun prizes with your little one.  And why not get double the mileage out of reading this summer and sign up for our Adult Summer Reading Challenge?  Then you can count the books you read to your child there as well!
---
Books We Shared

To begin infant storytime we sang Little White Duck with lyrics by Walt Whippo, music by Bernard Zaritzky and illustrations by Joan Paley.  It's a fun and easy song to learn, but if you've never heard it before you may also want to check out the cd Burl Ives Sings Little White Duck for a nice version.  Checking out books about music are a great way to share both story and song together with your child.  If you like this one, we have a lot of others at the library too — just ask!  After, we heard another story with different sounds – and some surprising singing! – that animals do in Moo Baa La La La! by Sandra Boynton.
In Toddler Storytime, we kicked things off with the awesome beat of the book Jazz Baby by Lisa Wheeler and R. Gregory Christie.  This book will get you clapping and tapping, as the family in it really knows how to get down.  Then, because infants shouldn't have all the animal noise fun, we also read  Moo Baa La La La! by Sandra Boynton.
---
Flannelboard Story
In Infant storytime, we sang the lullaby Hush Little Baby.
Hush, little baby, don't say a word.
Papa's gonna buy you a mockingbird
And if that mockingbird won't sing,
Papa's gonna buy you a diamond ring
And if that diamond ring turns brass,
Papa's gonna buy you a looking glass
And if that looking glass gets broke,
Papa's gonna buy you a billy goat
And if that billy goat won't pull,
Papa's gonna buy you a cart and bull
And if that cart and bull turn over,
Papa's gonna buy you a dog named Rover
And if that dog named Rover won't bark
Papa's gonna buy you a horse and cart
And if that horse and cart fall down,
You'll still be the sweetest little baby in town.
And during toddler storytime, we sang the classic Old MacDonald
Old MacDonald had a farm
E-I-E-I-O
And on that farm he had a sheep
E-I-E-I-O
With a baa baa here and a baa baa there
Here a baa, there a baa, everywhere a baa baa
Old MacDonald had a farm
E-I-E-I-O
---
Nursery Rhyme
For our Nursery Rhyme flannelboard we had a cat playing an instrument:
Hey Diddle Diddle

Hey diddle diddle,
The cat and the fiddle,
The cow jumped over the moon.
The little dog laughed,
To see such a sight,
And the dish ran away with the spoon
---
Film We Watched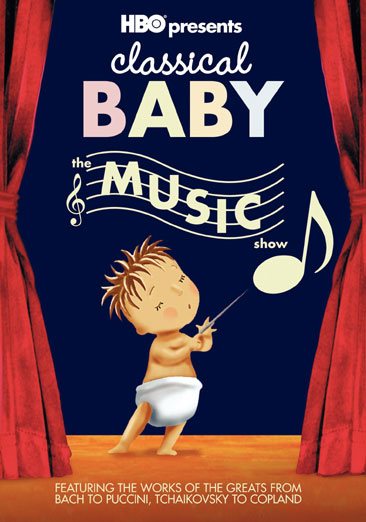 "Night Music", "Aquarium", and "Musical Faces" from Classical Baby: The Music Show

This HBO production highlights classical music and creates enchanting videos that accompany the songs.
---
Continue the Fun
Looking for more ways to Read to the Rhythm?  Come to your local Pasadena Public Library branch, sign up for summer reading, and then pick up one of these titles!
Click the cover of each book to find it in the library catalog.
Children's Room Infant Toddler Storytime 6/16/2015