On Monday, we had a visit from Valentina Quezada and other representatives of the USC Pacific Asia Museum for their free art program, Listen, Learn, Create! Each quarter they come and bring stories and art projects to teach kids about Asian arts and cultures. Valentina read a folk tale called The Great Race, written by Dawn Casey and illustrated by Anne Wilson. It explains how the twelve animals in the Chinese zodiac were chosen, why Cat was not chosen, and why Cat and Rat are not friends to this day!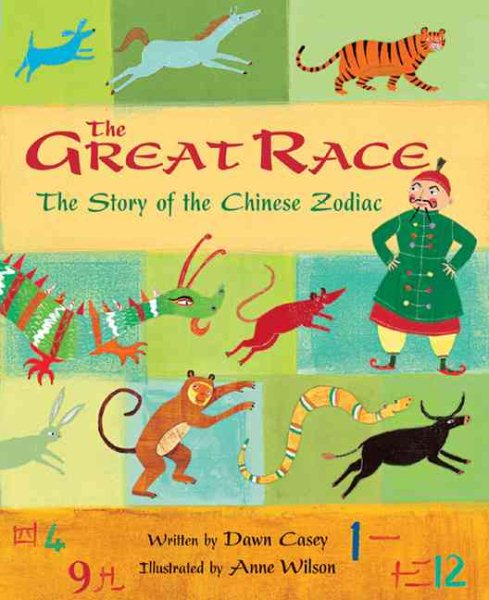 Then she walked us through how to make a beautiful paper banner with Chinese characters written in gold, and a tassel of red yarn and beads!
First, we wrapped red yarn around a piece of cardboard until we had a thick loop, and then we tied a knot around one end and cut the other end, to make a tassel. (Click on the pictures to see them full size!)
I had precut some red cardstock into square shapes. Red is an important color in Lunar New Year, and in many Asian cultures red is a color of joy.
Valentina passed out some printouts of large Chinese characters saying things like "joy" or "happiness" or "Happy New Year" or "Blessings." She told the kids to place the printouts on top of their red paper, and press down hard on the Chinese characters with a pencil so that light marks would show on the red paper below. Then you can follow those creases you made to redraw the Chinese character with the gold pen.
When that's done, you can punch holes in both the top and bottom of your banner. Attach your tassel with a decorative bead to the bottom hole, and attach another loop of red yarn to the top hole, and you're done!
Some of the kids added cool effects with black sharpies:
The contrast of the gold and black was a very innovative and eye-popping choice!
All of the projects came out so lovely. We hope they'll grace your homes and bring you good luck!
Each family received a set of complimentary tickets to the USC Pacific Asia Museum, which was so cool! I hope you'll all visit them sometime and see their collections. A big thank you to our talented and creative friends at USC Pacific Asia Museum for sharing their time and resources to give us these fun art programs!
Our next Listen, Learn, Create program will be Monday, May 18th at 3:30 pm, at Pasadena Central Library. I hope you can join us!