Today's storytime mascot was a lamb, because we were going to be "counting sheep," and getting ready for bedtime!
---
Books We Shared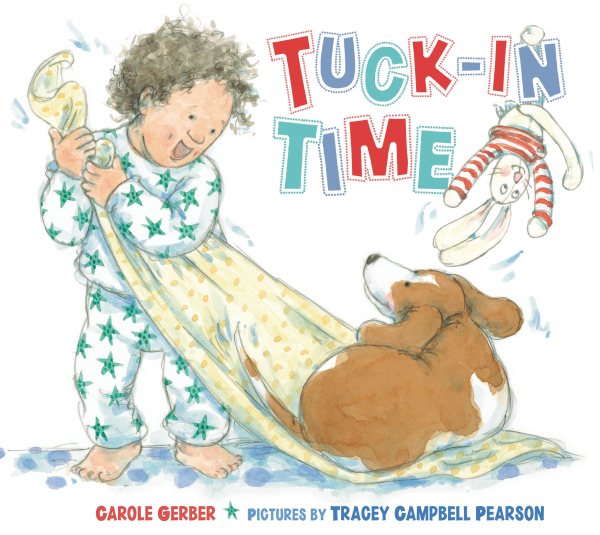 Tuck-in Time by Carole Gerber and illustrated by Tracey Campbell Pearson is a fun bedtime book with lots of action prompts and prompts to touch your eyes, nose, ears, and tummy. And it's got lots of kisses and tickles!
Originally published in France, Shhh! This Book is Sleeping by Cédric Ramadier and Vincent Bourgeau is an unusual concept. The book is sleepy, and it needs your help to go to sleep!
---
Flannel Boards We Shared
Five Little Monkeys Jumping on the Bed
Five little monkeys jumping on the bed
One fell off and bumped his head
The mama called the doctor and the doctor said
"No more monkeys jumping on the bed!"
(Take a monkey away and repeat the rhyme with one fewer monkey, until there are no more monkeys)
---
Action Songs & Bounces We Shared
You Be the Ice Cream
You be the ice cream (point to baby, tickle baby)
I'll be the freezer. (shiver and tickle baby
You the be lemon (make sour face)
And I'll be the squeezer (hug baby)
You be the hot dog (point to baby)
And I'll be bun (wrap arms around baby and gently rock)
You be the baby (bounce baby gently in arms)
And we'll both have fun!
(Watch video here: http://pasadena-library.net/kids/fingerplay-ppl/#youbetheicecream)
One Bright Scarf
One bright scarf waiting for the wind to blow
Toss it up high and wave it down low
Wiggle it fast and wiggle it slow
Hey! (cover face) Where did you go?
Eyes, Nose, Cheeky cheeky Chin
(Tune: Goodnight Ladies)
Eyes, nose, cheeky cheeky chin
Eyes, nose, cheeky cheeky chin
Eyes, nose, cheeky cheeky chin,
Cheeky, cheeky, cheeky, cheeky chin!
Peekaboo
Peekaboo, where are you
hiding in your… PLACE! PEEKABOO!
Peekaboo, I see you
and your smiling… FACE! PEEKABOO!
Goodbye Babies (song in sign)
Click here for video:  Goodbye Babies (Friends) 
Goodbye babies, goodbye babies
Goodbye babies, it's time to say goodbye.
---
Music from CDs We Shared
Children love to sing and dance to music.  Here are some of the songs/bounces on CD that we used in storytime.
"Clap Everybody and Say Hello" from Sally Go Round the Sun by Kathy Reid-Naiman
"Popcorn" from Shining Like a Star by Laura Doherty
"Ladies Ride" from Wiggleworms Love You by Old Town School of Folk Music
---
Continue the Fun
Here are some more books about bedtime to check out at your Pasadena Public Library Branch: