Books We Shared
Animal Shapes by Christopher Silas Neal was a big hit! Using animals, shapes and lots of creative wordplay, Neal takes the names of shapes and turns them into puns– two giraffes plus a rectangle become a NECK-tangle, and two kittens plus a circle become a PURRR-cle!
I love the bright colors and contrasts in Jane Foster's Stripy Tiger Pattern Book. It combines shape recognition with pattern recognition for a good introduction to both for babies and toddlers.
---
Flannel Boards We Shared
Shapes at the Playground
For this one, I tell everyone that all the little shapes were playing on the slide at the playground, and when they get to the bottom, they have to find their parents. The triangle goes up the slide and down the slide, and then goes to the rectangle–is this her mommy? Is the square her mommy? No, the big triangle is her mommy! The parent/child story is just a storytelling tool by which we match each small shape with its matching big shape.
(I might try making a felt board similar to that for upper- and lowercase letters!)
Shape Finger Puppets
Ricky Rectangle is my name,
My four sides are not the same.
Two are short and two are long.
Count my sides, come right along!
I'm Sammy Square, that's my name
My four sides are just the same.
Timmy Triangle, that's me!
I don't have four sides. I have three!
I'm Suzie Circle.
Watch me bend!
Round and round from end to end.
Ollie Oval, that is me.
I'm not round, as you can see!
Like an egg a chicken laid,
That's the way I am made!
We are all shapes, and we love to play!
You can find us anywhere, every day!
(Adapted from: https://missmaryliberry.com/2011/04/29/flannel-friday-shapes-rhyme-now-with-homemade-finger-puppets)
---
Letter of the Day
Our Letter of the Day was S. We did a squiggly S in the air and talked about S words and names that start with S.
---
Action Songs & Bounces We Shared
Open Shut Them
Open shut them, open shut them.
Give a little clap, clap, clap.
Open shut them, open shut them.
Place them on your lap, lap, lap.
Creep them, crawl them
Creep them, crawl them
Right up to your chin, chin, chin
Open up your little mouth… Buuuuuuuuuuut…
Do not let them in!
Twinkle, Twinkle
(This one was perfect for the theme since it has TWO shape names in it!)
Twinkle, twinkle little star
How I wonder what you are
Up above the world so high
Like a diamond in the sky
Twinkle, twinkle little star
How I wonder what you are
Goodbye Friends (song in sign)
Click here for video:  Goodbye Babies (Friends)
Goodbye friends, goodbye friends
Goodbye friends, it's time to say goodbye.
Today we played with scarves. I started by showing everyone how a scarf is a square, and if you fold it one way you can make it into a rectangle, and if you fold it another way you can make it a triangle!
Then we did these scarf songs:
One Bright Scarf
One bright scarf waiting for the wind to blow
Toss it up high, and wave it down low
Wiggle it fast, and wiggle it slow
(then cover your face)
Hey! Where did everybody go?
(lift up scarf) There you are!
Peekaboo
Peekaboo, where are you
hiding in your… PLACE! PEEKABOO!
Peekaboo, I see you
and your smiling… FACE! PEEKABOO!
---
Music from CDs We Shared
Did you know singing and dancing improve brain function?  Here are some of the songs/dances on CD that we used in storytime to power up our early literacy with some great blood flow!
"Clap Everybody and Say Hello" from Sally Go Round the Sun by Kathy Reid-Naiman
"Dancing Scarf Blues" from Dancing Feet by Carole Peterson
"Goodbye in the Bayou" from Bon Voyage by Jazzy Ash
"Goodbye Song" from Shining Like a Star by Laura Doherty
---
Video We Shared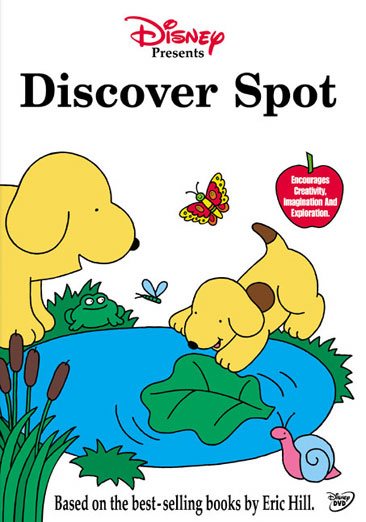 Spot videos, based on the books by Eric Hill, are so full of clear, simple shapes, I figured we'd just enjoy a Spot video and see how many shapes we can find. So we watched Spot Plays Hide and Seek from the Discover Spot DVD. Spot's sneaky antics were a hit with the toddlers!
Continue the Fun
Here are some more books about shapes to check out at your Pasadena Public Library Branch: