Books We Shared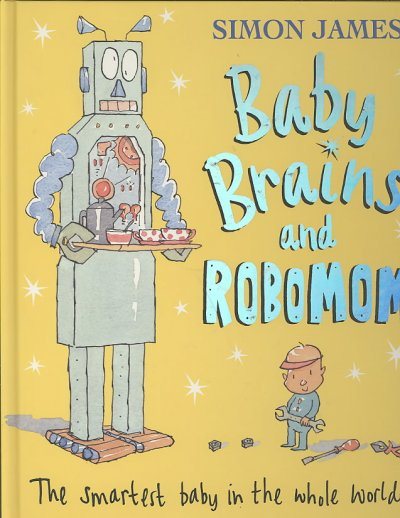 In Baby Brains and RoboMom by Simon James, a super-smart baby notices his mother working very hard and invents a viable substitute to give her a break. The only problem is, he doesn't like when RoboMom changes his diapers and gives him a bath… he wants his real parents to do that. Pretty soon RoboMom becomes a disaster!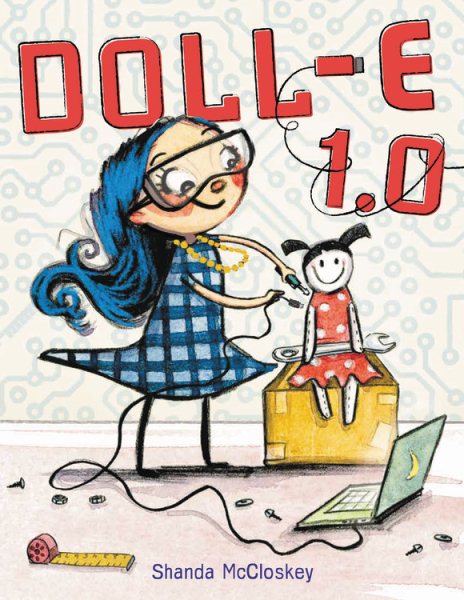 In Doll-E 1.0 by Shanda McCloskey, a little girl who is a computer and coding wiz gets a doll from her mother, to her dismay. She decides to code the doll into a robot and give her a bigger vocabulary and more capabilities. The line about dragging the "human shaped pillow up to her room" got some laughs!
Boy + Bot by Ame Dyckman and illustrated by Dan Yaccarino tells a story about a boy who finds a robot and plays with it, but when the robot accidentally shuts down, the boy tries to fix it and brings it home. The robot wakes up to find the boy asleep, and decides to fix the boy with his own robot methods!
---
Flannel Board
Five little robots in the toy shop.
Small and shiny with antennae on top.
Along came a kid with a dollar one day
Who bought the _________ (color) robot and took it away!
Four little robots…….. (repeat, counting down to none)
(https://storytimekatie.com/2015/10/30/flannel-friday-five-noisy-robots/)
---
Songs and Rhymes We Shared Without Music
I'm a Little Robot
(Tune: I'm a Little Teapot)
I'm a little robot, short and strong
Here's my antennae (put fingers up to head)
Just switch me on! (tap nose)
Dancing super fast til my battery's low
Then I s h u t d o w n ve ry s l o w
---
Music from CDs We Shared
"Song In My Tummy" from The Best of the Laurie Berkner Band
"The Tempo Marches On" from Jim Gill Sings Do Re Mi On His Toe Leg Knee
---
Video We Shared
Robot Zot by Jon Scieszka and illustrated by David Shannon, is about a small little robot from outer space who goes to Earth with an outsized ego and high ideals of defeating monsters and rescuing damsels–almost like Don Quixote!
---
Continue the Fun
Want more stories about robots? Check these out at your Pasadena Public Library branch: