---
Books We Shared
Our first book, Something Smells by Blake Liliane Hellman and illustrated by Steven Henry, was a mystery! Elliot wakes up to a horrible smell. His mom says it's time for his bath–but there's no time for a bath, not when there are horrible smells about! Will Elliot ever solve this mystery?
In A Whale in the Bathtub by Kylie Westaway and illustrated by Tom Jellett, Bruno insists that he can't take a bath right now because there's a whale in there hogging the tub. It's a rather rude and obnoxious whale, too. Even worse, his family won't help–they think he's making the whole thing up! How will he get rid of this whale so he can finally take a bath?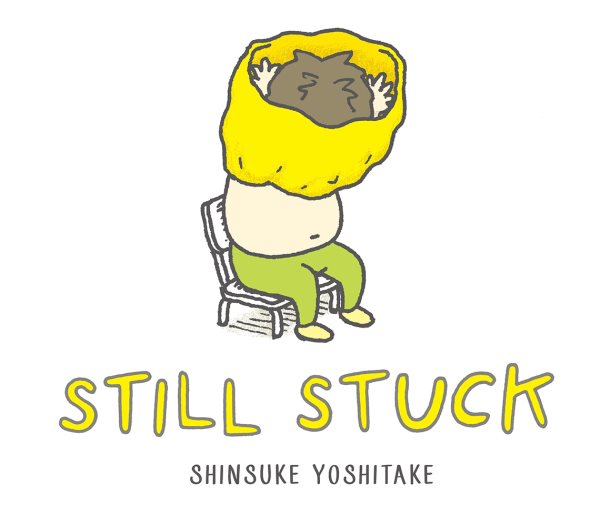 Shinsuke Yoshitake's book Still Stuck, translated from the original Japanese, is about a kid getting ready for the bath and insisting on undressing all by himself, but he gets stuck. He wonders, what would happen if he couldn't get out… and stayed stuck in his shirt… FOREVER?
---
Flannel Board
Five Little Piggies in the Bath
(Credit: Artsy Toddler Storytimes by Carol Garnett Hopkins)
One little piggy was taking a bath
The water was splashing and the bubbles were rising
When another little piggy came to join the fun!
Two little piggies were taking a bath…
(Continue til you get to five pigs)
The bathtub is full. The piggies are clean.
And the slippery little piggies get out of the bath!
Five Little Speckled Frogs
Five little speckled frogs
Sitting on a speckled log
Eating a most delicious fly — Yum, Yum!
One jumped into the pool
Where it was nice and cool
Then there were four little speckled frogs!
(keep singing, removing one at a time until there are none left)
---
Songs and Rhymes We Shared Without Music
Goodbye Friends (song in sign)
Click here for video:  Goodbye Friends 
Goodbye friends, goodbye friends
Goodbye friends, it's time to say goodbye.
---
Music from CDs We Shared
"Bubbles" and "Goodbye in the Bayou" from Bon Voyage by Jazzy Ash
"Song In My Tummy" from The Best of the Laurie Berkner Band
"Row, Row, Row Your Boat" from Songs for Wiggleworms by Old Town School of Folk Music
"Five Little Speckled Frogs" from Animal Songs and Stories by Susie Tallman and Friends
"Goodbye Song" from Shining Like a Star by Laura Doherty
---
Video We Shared
We watched an animated version of Harry the Dirty Dog by Gene Zion and illustrated by Margaret Bloy Graham. Harry hates baths, so he runs away where he is free to get very very dirty, but when he misses home, he finds his family no longer recognizes him.
---
Continue the Fun
Want more stories about bathtime? Check these out at your Pasadena Public Library branch: