Today's storytime, our last for this session, was about hide and seek and peek-a-boo!
---
Books We Shared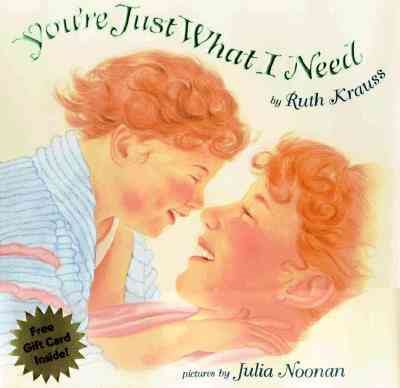 You're Just What I Need by Ruth Krauss and illustrated by Julia Noonan is a sweet book about a mom wondering what the mysterious bundle is underneath her blanket. Is it a pile of laundry? Is it a bunch of carrots? She doesn't think she needs those things, but there is indeed something she needs, and loves, hiding there.
Who's There by Alain Crozon is a bright, colorful lift-the-flap book from France, with whimsical illustrations and fun surprises in each flap.
Flannel Boards We Shared
Letter of the Day: H
We made a big capital "H" in the air, and brought out felt pictures of different objects that begin with H, and guessed what they were.
Who's That Knocking?
(Tune: Wheels on the Bus)
Who's that knocking at my door?
At my door? At my door?
Who's that knocking at my door?
Guess who it is!
[chant and clap] KNOCK, KNOCK!
WHO'S THERE?
MEOW
MEOW WHO?
IT'S A CAT!
(Each time we sang it, I made a different animal sound and the kids guessed what animal it was. There was a cat, a monkey, a bird, a frog and a pig.)
(Source: Storytimes for Two-Year-Olds by Judy Nichols)
Nursery Rhyme We Shared
Pop Goes the Weasel
(This is a song you hear in most Jack-in-the-Box toys.)
All around the cobbler's bench
the monkey chased the weasel
The monkey thought it all in fun
Pop! goes the weasel
A penny for a spool of thread
A penny for a needle
That's the way the money goes
Pop! goes the weasel
"Pop Goes the Weasel" from Wiggleworms Love You by Old Town School of Folk Music
I Spy
Today I used my "I Spy" box to showcase some puppets we have of animals who can hide in shells or flaps of skin. We found a turtle, a hedgehog, and a snail. For each animal, I had the animal just poking through the hole a little bit, and talked about it to see if the kids could guess it.
Action Songs & Bounces We Shared
We share a lot of songs, bounces & rhymes during storytime!
You'll find lyrics/words to those songs & rhymes we shared without CD accompaniment here.
Treasure Hunt
Going on a Treasure Hunt
X marks the spot (draw an X on your child's back)
Big circle (draw)
Little circle (draw)
Dot, dot, dot (poke 3x)
Spiders crawling up your back (walk fingertips up your child's back)
Bite, bite, bite! (gently pinch shoulders)
Snakes slither up your back (drag fingertips up your child's back)
Bite, bite, bite!
Tight squeeze (hug)
Cool breeze (blow on child's neck)
Now you've got the… CHILLIES! (tickle)
Here is a Beehive
Here is the beehive, (make a fist)
but where are the bees?
They're hidden inside where nobody sees
Watch and see them come out of their hive
1, 2, 3, 4, 5… (open fingers one by one)
Bzzzzzzzzzzz! (tickle)
Open Shut Them
Open shut them, open shut them.
Give a little clap, clap, clap.
Open shut them, open shut them.
Place them on your lap, lap, lap.
Creep them, crawl them
Creep them, crawl them
Right up to your chin, chin, chin
Open up your little mouth… Buuuuuuuuuuut…
Do not let them in!
Peekaboo
Peekaboo, where are you
hiding in your… PLACE! PEEKABOO!
Peekaboo, I see you
and your smiling… FACE! PEEKABOO!
One Bright Scarf
One bright scarf waiting for the wind to blow
Toss it up high, and wave it down low
Wiggle it fast, and wiggle it slow (then hide the scarf behind your back)
Hey! Where did it go?
(Bring it out in the open and say:) Here it is!
Goodbye Friends (song in sign)
Click here for video:  Goodbye Babies (Friends) 
Goodbye babies, goodbye babies
Goodbye babies, it's time to say goodbye.
Music from CDs We Shared
Children love to sing and dance to music.  Here are some of the songs/bounces on CD that we used in storytime.
"Clap Everybody and Say Hello" from Sally Go Round the Sun by Kathy Reid-Naiman
"Dancing Scarf Blues" from Dancing Feet by Carole Peterson
"Row, Row, Row Your Boat" from Songs for Wiggleworms by Old Town School of Folk Music
Video We Shared
We watched "Hide and Seek" on our Peppa Pig Muddy Puddles DVD.
Continue the Fun
Here are some more books about hide and seek, and lift-the-flap books, to check out at your Pasadena Public Library Branch: