Today we told stories about dogs! There are always so many delightful books about dogs being published; I'm surprised at myself that I had never done this theme before now.
---
Books We Shared
Smick by Doreen Cronin and illustrated by Juana Medina uses very few words and large, free brush strokes to tell a story of a cute dog who befriends a chick.
The photos in The Babies and Doggies Book by John and Molly were so adorable and well-chosen, I think they were a big hit!
Puppet Stories
Bark, George
Bark, George by Jules Feiffer is a classic about a dog who keeps making the sounds of other animals, until a veterinarian discovers that he has all kinds of animals in his stomach. Instead of showing the book (with its slightly scary illustrations) I used a dog puppet to tell the story, and at the part where the vet pulls animals out of his stomach, I had some felt animals hidden up the "sleeve" of the puppet.
Flannel Boards We Shared
Letter of the Day: D
We made a big capital "D" in the air, and brought out felt pictures of different objects that begin with D, and guessed what they were.
Five Little Puppies
Five little puppies were playing in the sun. (Hold up hand, fingers extended.)
This one saw a rabbit, and he began to run. (Bend first finger.)
This one saw a butterfly, and he began to race. (Bend second finger.)
This one saw a pussycat, and he began to chase. (Bend third finger.)
This one tried to catch his tail, and he went round & round. (Bend fourth finger.)
This one was so quiet, he never made a sound. (Bend thumb.)
(Source: https://storytimekatie.com/2012/04/27/flannel-friday-puppies/)
Nursery Rhyme We Shared
Where, Oh Where Has My Little Dog Gone?
Where, oh where, has my little dog gone,
Oh where, oh where can he be?
With his ears cut short
And his tail cut long.
Oh where, oh where can he be?
(Source: https://jeninthelibrary.com/tag/dogs/)
Action Songs & Bounces We Shared
We share a lot of songs, bounces & rhymes during storytime!
You'll find lyrics/words to those songs & rhymes we shared without CD accompaniment here.
Fleas
On my toe there is a flea
Now he's climbing on my knee
Past my tummy, past my nose
On my head where my hair grows
On my head there is a flea
Now he's climbing down on me
Past my tummy, past my knee
On my toe… Take that, you flea!
(Source: https://kcls.org/content/on-my-toe-there-is-a-flea/)
Open Shut Them
Open shut them, open shut them.
Give a little clap, clap, clap.
Open shut them, open shut them.
Place them on your lap, lap, lap.
Creep them, crawl them
Creep them, crawl them
Right up to your chin, chin, chin
Open up your little mouth… Buuuuuuuuuuut…
Do not let them in!
Goodbye Friends (song in sign)
Click here for video:  Goodbye Babies (Friends) 
Goodbye babies, goodbye babies
Goodbye babies, it's time to say goodbye.
Rhymes We Shared With Scarves
Red Rover
Today when passing out the scarves, I went around to each child and sang,
Red rover, red rover,
send [child's name] right over!
Then I placed the scarf over the child's head.
Peek-a-Boo
(cover your face with the scarf)
Peek-a-boo, where are you
Hiding in your…
place! PEEKABOO! (throw the scarf off your face and tickle baby)
(cover your face with the scarf)
Peek-a-boo, I see you
and your smiling…
face! PEEKABOO! (throw the scarf off your face and tickle baby)
One Bright Scarf
One bright scarf waiting for the wind to blow (wave it gently)
Toss it up high (throw it high in the air and catch it)
And wave it down low
Wiggle it FAST!
and wiggle it s…l…o…w……
Hey! (hide it behind you)
Where did it go?
…. Here it is! (bring it back out)
(Source: jbrary–I don't usually sing it with that melody though, I just say the words)
Music from CDs We Shared
Children love to sing and dance to music.  Here are some of the songs/bounces on CD that we used in storytime.
I went back to "Clap Everybody and Say Hello" from Sally Go Round the Sun by Kathy Reid-Naiman for the opening song. I won't change it anymore this year. Familiarity is very important for babies and toddlers!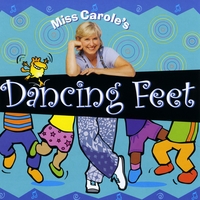 "Dancing Scarf Blues" from Dancing Feet by Carole Peterson
"Bingo" from Wiggleworms Love You by Old Town School of Folk Music. I also used felt letters:
Video We Shared
We watched "Spot's Grandpa" from the Discover Spot DVD, a very short story about Spot's grandpa introducing him to the names of plants and animals and teaching him things.
Barks and Books
If you'd like to join us for Barks and Books and read with some real live dogs, we have volunteers from the Humane Society coming on Thursday at 4 pm, with their adorable and gentle dogs. The program is actually intended for older kids who are learning to read, to develop reading confidence. But I'm sure the dog would still enjoy hearing a story together with a toddler or baby!
Continue the Fun
Here are some more books about dogs to check out at your Pasadena Public Library Branch: