This week we learned about fruits–the colors, whether they're good as homes, and as snacks:  watermelons, apples, lemons, blueberries, cherries, oranges, pears, grapes, and kiwis.
Stories we shared
Odd Dog by Claudia Bolt:  Peanut, an odd dog who doesn't like bones, but apples, worries that his next-door neighbor, Milo, might steal all the apples from his tree, but Peanut discovers something about Milo (and himself) that changes everything.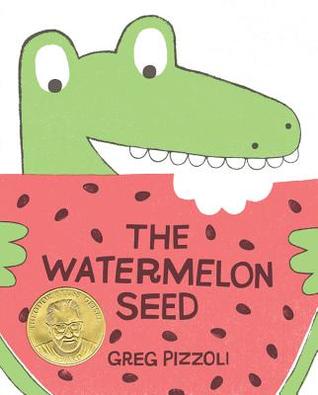 The Watermelon Seed by Greg Pizzoli:  After swallowing a watermelon seed, a crocodile imagines a scary outcome.
Ned's New Home by Kevin Tseng:  A worm tries out a variety of new homes when the apple he has been living in starts to rot, but none–from a lemon to a watermelon–is satisfactory.
Flannelboard
Put the apple in the pot / stir it, stir it, stir it a lot / Take it out now, what will it be? / the prettiest red you ever did see…
Draw and Tell
"Banana Cream Pie" by Richard Thompson
Jesse and Josh make a banana cream pie.  When they're done, Jesse goes in search of Katie to come get a piece, but by the time they return, it's all gone! The lesson of the story is:  who should you never leave alone with a banana cream pie? A monkey!
Films
Hurray for Huckle:  The Falling Fruit Mystery
One of the cherry trees in Patrick Pig's orchard has mysteriously dropped all its fruit. After doing some detective work, Huckle and his pals find out that Hilda gave the tree a good shake while retrieving her tangled kite.
---
Preschool storytime, Pasadena Central Library, 9/19/2015