Infant Storytime – Taking a Spin! – November 18
Today's Infant Storytime was all about taking a "spin" in a motor car!  Miss Jennifer was on vacation today so I (Miss Marie) got to take her storytime crowd out for a ride!!!  Here are some of the stores we read:
In Cynthia Rylant's, "Brownie & Pearl Go for a Spin" we see Brownie & Pearl driving around town in a beautiful pink motor car; it was so much FUN that Pearl didn't want it to end!  Brownie had to coax her out with a tasty tuna treat!!! Simple text, bright illustrations and a sweet bond between a girl and her kitty make this the perfect story to share with an infant.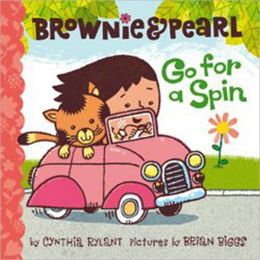 We moved from a beautiful pink car to a large, red bus.  In "My Bus" by Bryon Barton, a bus meanders through the city, picking up five cats and five dogs at different bus stops.  The question is:  "Where do they all end up? " Well two dogs and a cat are left at the train station, one dog and two cats are taken to a big red boat and one dog and two cats are left to board an airplane at the airport.  But wait!!  That leaves one more dog!  At the end of the day, the bus driver parks his bus, gets into his car and drives one dog home – his dog!  Primary colors, well defined illustrations and a bit of a puzzle make this a good read for the infant/toddler crowd.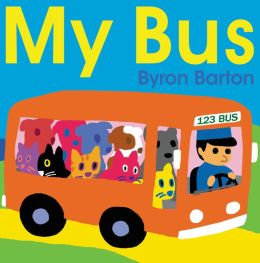 Songs & Activities we shared:
Flannelboard:  
Little Boy Blue
Little Boy Blue, come blow your horn
The sheep's in the meadow, the cows in the corn
But where is the little boy who looks after the sheep?
He's under the haystack, fast asleep.
Well shall we wake him?
Oh no, not I!
For if we do, he'll surely cry.
Bounces:  
Dickery dickery dare (bounce baby on lap gently)
The pig flew up in the air! (lift baby up from lap)
The man in the brown, brought him back down… (bring baby down to lap)
Dickery dickery dare!  (bounce baby on lap gently)
&
The Grand Old Duke of York
He had 10,000 men
He marched them up to the top of the hill (hold baby up)
And he marched them down again (bring baby down)
And when they're up, they're up (hold baby up)
And when they're down, they're down (bring baby down)
And when they're only half way up (bring baby half way up)
They're neither up (bring baby up quickly)
or down (bring baby down quickly)
Tickle & Songs:  
Round and round the garden, goes the teddy bear…a one-step, a two-step…a tickle under there!
Clap, Tap & Bend (Carol Hammett CD) – ACTION SONG
This is the Way the Ladies Ride (the Gentlemen Ride, the Farmers Ride) ; Trit Trot to Boston – ACTION SONGS (with bouncing)
Opening & Closing Songs:
Welcome, welcome everyone…  Hello babies (sign)…
Twinkle, Twinkle Little Star, Itsy Bitsy Spider, You are My Sunshine (Songs for Wiggleworms), Goodbye babies (sign)