Today our book club learned a bit about Chiang Mai, Thailand and discussed the book Tua and the Elephant by R. P. Harris.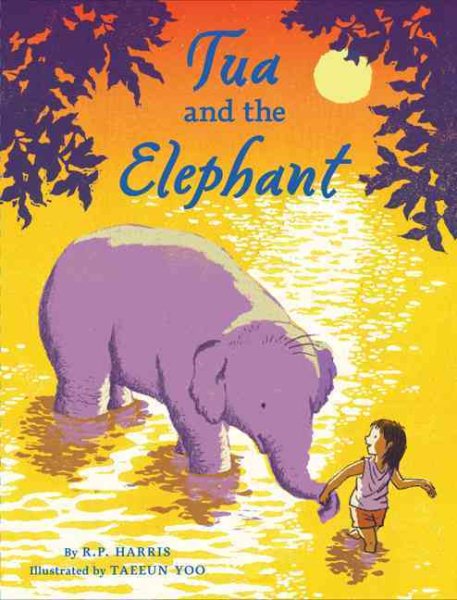 Nine-year-old Tua releases an abused elephant from its chains, but its angry and ruthless owners are on her tail and they'll do anything to get their elephant back from her. Can she complete the rescue by getting Pohn-Pohn to an elephant refuge without being caught herself?
This book is also available on hoopla with unlimited copies so you never have to wait.
Before our discussion today, I sent everyone a recipe video for making banana roti, a delicious dessert enjoyed in Thailand that is kind of like crepes, if you've ever tried crepes! I got a chance to make some this week and it was SO GOOD:
One of the kids in the group made it too! He and his mom used marshmallows and chocolate in place of bananas. I am TOTALLY trying that next time!
We watched a few videos about Chiang Mai, the city where this story is set, and learned a bit about a famous lantern festival they have every year for Yi Peng, a Buddhist festival held usually in November on a full moon. People light paper lanterns on fire and watch them float into the air!! (INVOLVES FIRE; DON'T TRY THIS AT HOME.)
We had a lively and fun (sometimes silly) discussion about the book! We shared our pets, reviewed Thai vocabulary from the book, discussed the colorful and interesting characters from the story, read passages aloud, and talked about our favorite wise sayings like the many wise sayings sprinkled throughout the book!
Here's a link where you can download my powerpoint slides and discussion questions:
Our next book is going to take us to Paris, France, with an adventure story about an orphan trying to find her mother with help from some guy friends who know the city inside and out. It's called Rooftoppers and it's by Katherine Rundell. We'll be holding our discussion on Friday, November 13 at 3 pm. The book is also available as an audiobook on hoopla, and in eBook or audio on Overdrive. Email me if you have a 3rd-5th grade student who would like to join us! akolakowski [at] cityofpasadena [dot] net.