For 105 weeks, Press Here by Hervé Tullet has been on the New York Times Bestseller list.  This ingenious book takes the idea of an interactive app and puts it into a traditional format.  The book begins with a single yellow circle and the instructions "Press here and turn the page."


With a flip of the page, there are now two dots instead of just one.  The book continues in just this style, asking the reader to do certain activities (press, turn, shake, clap!) and showing the results after the page turn.  It's fun and a wonderful and different way to experience reading.
I love the way Press Here allows you to engage as a reader with the book.  Instead of just reading, it's a game.  If you love Press Here, there are more books in our library that encourage reader participation — maybe not to such extremes as Press Here, with wordplay and seek-and-finding.  Here are some of my favorites:

I Scream Ice Cream: A Book of Wordles by Amy Krouse Rosenthal, illustrated by Serge Bloch 
A wordle is a set of words or phrases that sound the same when you say them aloud by have very different meanings, like "I scream" and "ice cream" or "Princess cape" and "Prince, Escape!".  Rosenthal makes wordles into a game by having one phrase and a fun illustration on one page.  Then you get to predict what the next phrase will be and see if you're right by turning the page.
Wumbers written by Amy Krouse Rosenthal and illustrated by Tom Lichtenheld
Another book from Rosenthal, wumbers are words that take out some of the letters and replace them with numbers that sound the same.  Instead of writing out the phrase, "A shady spot for reading and writing", the wumber becomes "A sh80 spot 4 reading and writing."  It's fun to decipher the phrases in this one.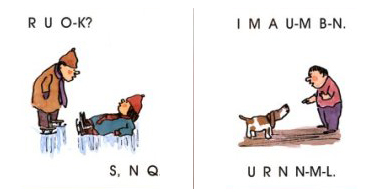 C D B! by William Steig
Deciphering is taken one step further with William Steig's C D B!  Instead of using words at all, Steig uses letters and numbers to create the sounds of words and simple sentences.  So, "Are you okay?  Yes, thank you" is represented by "R U O-K?  S, N Q" and "I am a human being.  You are an animal" is "I  M  A  Y-M  B-N.  U  R  N  N-M-L."  It's fun to read the ones you can't figure out aloud and see what you are saying.
Where's Waldo by Martin Handford
I Spy: A Book of Picture Riddles by Walter Wick and Jean Marzollo
Look! A Book! by Bob Staake
These three books turn reading into a seek-and-find adventure.  Read the clues in the text, and then find the items in the book illustrations.  You'll go cross-eyed searching for Waldo among all the other people in Handford's book, be amazed at the detail in Wick's photographs, and charmed by the retro feel of Staake's illustrations.  All are great fun to spend a few hours pouring over.
If you still want more, just come to your local branch and ask!  We are always happy to help you find a new book to play with!