National Hispanic Heritage Month 2018 runs September 15 to October 15; it's a time to recognize and honor the contributions of Latinx Americans to our heritage and culture. Here are a few selected titles featuring Latinx characters and culture.
Latin@ Rising: An Anthology of Latin@ Science Fiction and Fantasy edited by Matthew David Goodwin
Authors of Latino descent mix literary elements with science fiction and fantasy in this eloquent anthology of intimate pieces, with the speculative elements often serving as background, support, or mirror. Kathleen Alcalá's "The Road to Nyer" captures a moment in a Catalan castle when history inexplicably intrudes on the present. In "Sin Embargo," Sabrina Vourvoulias plays with translation and transformation in interesting ways while shining a light on the massacres that have punctuated Guatemala's history. In "Traditions," Marcos S. Gonsalez uses an automaton to reflect on the importance of tradition in a future N.Y.C. Mexican-American household; Alex Hernandez uses hive-mind technology for a similar purpose in "Caridad." In Carlos Hernandez's "Entanglements," a man uses advanced multiverse-viewing technology to save the marriage of his lover and her husband. There is a feeling of melancholy to many of these pieces, and others, such as "Monstro" by Junot Díaz and "The Drain" by Alejandra Sanchez, can best be described as horror. Urban fantasy readers will particularly enjoy "Red Feather and Bone" by Daniel José Older, a tie-in to his Bone Street Rumba series.
Things We Lost in the Fire: Stories by Mariana Enriquez; tranlated by Megan McDowell
These stunning, incandescent stories by Argentine writer Enríquez are her first to be translated into English, and each one crackles with sophisticated weirdness, illuminating everyday activities against the underbelly of the macabre. "The Dirty Kid" presents an unnerving, sympathetic portrait of life on rough city streets, in which Enríquez renders graphic details with uncanny precision, luring readers into the brutal, repellent scene. "The Inn" deftly balances small-town rumor, budding sexuality, and inexplicable hauntings when two teenage girlfriends plan to prank a local innkeeper and witness the inexplicable. "Spiderweb" takes place in an equally eerie roadside motel on the Paraguayan border, where a truculent husband goes missing without a trace. Many of these stories flirt with the supernatural or suggest strange coincidences, but others embrace literary horror with cackling glee. "End of Term" takes up the familiar trope of a possessed child and makes it new with the concise, unsettling narration by a classmate who witnesses every step of the ensuing unraveling. Similar to Shirley Jackson and Jac Jemc, Enríquez is certain to dazzle and discomfit.
Never Too Real by Carmen Rita
TV broadcaster Rita explores the nature of female friendships in this frenetically paced, ribald debut novel. The four leading ladies are spirited, successful, professional Latinas from a variety of backgrounds who rely on one another to navigate the many surprises life throws at them. Cat, a TV host, is thrown into an identity crisis after the abrupt cancellation of her show, while Luz, an advertising executive, is confronted by a huge family secret. Magda, the owner of a venture-capital firm, is still coming to grips with her family's negative reaction to her coming out more than a decade ago, while Gabi, a therapist, deals with the end of her marriage. Each chapter is full of enough twists to support a separate novel, but the witty dialogue and genuineness of feeling evoked by the writing overcomes the somewhat bewildering jumps in each character's timeline and subsequent exposition. This deliciously fun read is perfect for fans of Kimberla Lawson Roby or Jennifer Weiner.
A Voice From the Field by Neal Griffin
Following Benefit of the Doubt, Griffin returns to the Newberg, Wisconsin, police department. An ex-marine, Officer Tia Suarez is tough, but a recent shooting and subsequent visions of a haunted young girl have others questioning her fitness for duty. When Gunther Kane tries to abduct Tia when she's on a prostitution stakeout, she swears she saw another woman tied up in the back of his van. She can't believe her ears when charges aren't filed against him. Then she learns that the feds want Kane on bigger charges for his alleged involvement in white-supremacist activity and human trafficking. Kane is the kind of creep who will give readers nightmares. No super-slick Hollywood villain, he is big and mean, the reason you check the backseat of your car at night. Fortunately, Suarez isn't a one-dimensional female cop. She's angry and impatient, and has some literal ghosts to battle. A convincing hybrid of thriller, procedural, and midwestern noir.
The Amado Women by Désirée Zamorano
For 60-year-old Mercy Amado, memory is an elaborate quilt piecing together the story of her immigrant mother and the accidental death of her younger, invalid brother while under Mercy's care. Throughout Zamorano's provocative novel, quilts and blankets continually remind the resourceful matriarch of her California family. Her three adult daughters are successful, middle-class Latinas who, nevertheless, struggle with ambition and wildly disappointing men. Nataly, the youngest, is a textile artist who literally weaves the family's complications into her work. Celeste, the oldest, is a brilliant financier who mourns a stillborn daughter. But sister Sylvia lives the closest to peril, despite a seemingly settled life in suburbia with her husband and two young daughters. After a tragedy, Mercy and her family must scramble to help reassemble daily life for the next generation of females. Zamorano weaves in lighter moments with meditations on the women's emotional and cultural inheritances. Why do we expect so much from our parents? an exhausted Mercy wonders. They're just as stupid and ignorant of the grand scheme of things as we are.
Dodger Blue Will Fill Your Soul by Bryan Allan Fierro
Two brothers bury a statue of Saint Jude for their grieving nana. A Griffith Park astronomer makes his own discovery at an East L.A. wedding. A young man springs his Cherokee-obsessed grandfather from the confines of senility. The common thread? Each is weaving their way through the challenging field of play that is living and loving in Los Angeles.
In Dodger Blue Will Fill Your Soul, Bryan Allen Fierro brings to life the people and places that form the fragile heart of the East Los Angeles community. In the title story, a father's love of Dodger baseball is matched only by the disconnect he must bridge with his young son. In another story, a young widower remembers his wedding day with his father-in-law. The boys and men in this collection challenge masculine stereotypes, while the girls and women defy gender roles. Hope and faith in their own community defines the characters, and propels them toward an awareness of their own personal responsibility to themselves and to their families, even as they eschew those closest to them in pursuit of a different future.
Dodger Blue Will Fill Your Soul is a tour de force—the first collection of an authentic new voice examining community with humor, hope, and brutal honesty.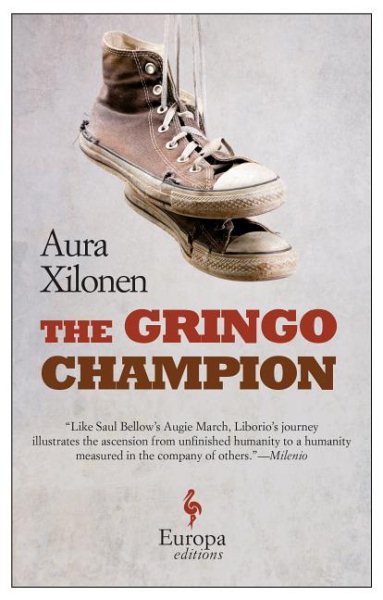 The Gringo Champion by Aura Xilonen; translated by Andrea Rosenberg
From the very first page of this fantastic, even spectacular debut, Xilonen flings the reader into the maelstrom of her protagonist's relentless stream of consciousness. Although Liborio's story, a crazy mash-up of a latter-day Oliver Twist and the movie Nacho Libre, is outstanding, the real star here is the language. What a ride! Hats off to translator Rosenberg, who brought this challenging narrative to an English-reading public. Liborio has been beaten down by a life of relentless abuse, violence, and suffering. His salvation comes in the form of books, love, and boxing. Xilonen's novel races along parallel story lines: Liborio's fate after he is left bereft in the U.S. when the bookstore where he works is destroyed, and the prequel tale of his life in and flight from Mexico. From a tragic and angry teen, Liborio blossoms, or erupts, into a focused, sympathetic hero. Intrepid readers will find this novel to be a gnarly and satisfying read as it pushes the boundaries of fiction, code-switching to the max, and Liborio is irresistible, with his tenacious spirit, uncensored thought process, unrequited love story, endurance, and triumph against all odds.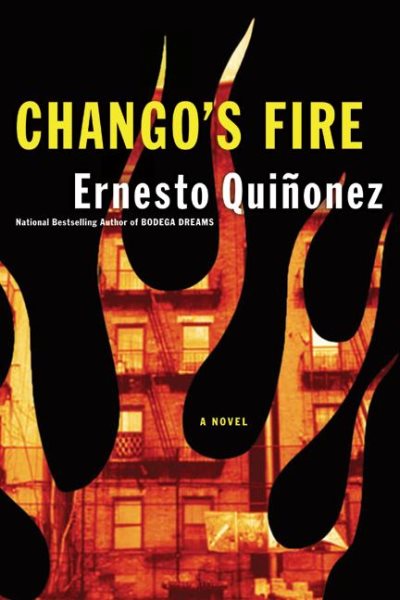 Chango's Fire by Ernesto Quiñonez
"New York City, like the country it's in, is a place that promises you everything but gives you nothing," contends Julio Santana. So the young man struggles to save his crumbling piece of Spanish Harlem even as he works for Eddie, an insurance-fraud specialist responsible for destroying much of Julio's neighborhood. Hanging onto the notion that "in America, it's where you end up that matters, not how you get there," Julio hopes to pay for night school and fix up the apartment building floor he owns by setting fires for Eddie and watching over the old man's unacknowledged son. Soon, though, the flames from Julio's hidden life threaten to consume everything he has worked for–along with his parents; his Santeria priest friend, Papelito; and gallery owner Helen. In his searing portrait of a community at the tipping point, Quinonez ably illuminates the sordid politics of gentrification and the unexpected places new immigrants turn to for social and spiritual support. His exploration of the often misunderstood Santeria–the title references the religion's trickster god, Chango–proves especially fascinating.
The Realm of Hungry Spirits by Lorraine Lopez
Middle-school ESL teacher Marina Lucero's heart is so big that she's "host to a whole realm of the hungry spirits," in the words of one of her suitors. Inspired by Gandhi, whose picture she's hung in the bathroom of her San Fernando Valley home, she houses her nephew, who's been thrown out by his parents; the boyfriend her younger sister dumped; and her next-door neighbor, who is physically abused by her husband. When the infant son of Marina's longtime boyfriend's daughter dies of a congenital disease, it's Marina who's a presence as the baby fails, not her now ex-boyfriend. Even when the palpable desire for peace compels her to throw out her boarders, who have come to include her neighbor's sister, she soon relents, and when she learns the truth about the mother she believed had gone into a convent, she understands. This story of a faith-propelled, irrepressible Chicana bursts with life as it comes to an eminently satisfying, all-encompassing conclusion.