It's still April, and so we're still celebrating Poetry Month. Today, we've composed a book spine poem from the titles we're sharing below. Some older, some brand new; some humorous, some more complex; all are collections of poetry well worth reading. We hope you'll discover some Soul Talk, Song Language in a bit of poetry among these titles, or some others (browse poetry in 811.54). Happy reading!
Poetry from Scratch: A Kitten's Book of Verse by Jennifer McCartney
Hipster cats, stay-at-home-mom cats, windowsill cats, and outdoor cats—you'll find them all here, immortalized in prose about, for, and sometimes by, cats. With a Brooklyn edge, author Jennifer McCartney ups the cool quotient on this burgeoning genre.Of Mice and MenThere once was a cat who loved booksHe liked bookshelves that had lots of nooksHe thought especially niceThe tomes about miceOne page and the kitty was hooked From limericks to beat poems, haikus to sonnets, riffs on famous verse to original blank verse, there is something here for every cat lover to enjoy.
The Tornado Is the World by Catherine Pierce
In her third collection, Pierce (The Girls of Peculiar) confronts various forms of fear and anxiety that can intrude on one's seemingly placid and satisfied, yet "absurdly flimsy life." The collection blossomed from an event that Pierce records in the penultimate poem, in which she writes, "once, in a Days Inn bathroom in Cullman, Alabama,/ I covered my four-month-old son as my husband/ covered me as the tornado went by." It's the type of life-altering scenario that can both cause a person to feel newly thankful for what they have and to see danger everywhere. In this light and with delightful imagination, Pierce explores diverging memories as well as a series of imaginary vacation scenarios experienced by a protagonist called "the unabashed tourist." In "An Apologia for Taking Things for Granted," she confesses, "I resolve to see everything/ in Technicolor, to hold each click of a switch,/ each pollen-thick day in my hands and know/ its true weight." However, the stamina and focus needed to sustain this sense of wonder can be paralyzing, which is perhaps why Pierce continually returns to the terrifying experience at the Days Inn. Pierce's tornado, with its hunger and unsettlingly human compassion, will make readers feel like a mother stepping out in its wake—into a "new, world-strewn world."
Torn Sky:Poems by Debra Nystrom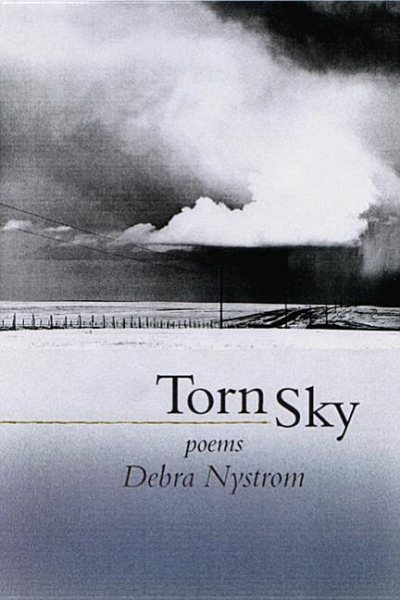 "Nystrom's gift as a poet is that she doesn't stop looking, and her poems make sure it is all still there for us to see."—Eamon Grennan
The landscape of Torn Sky is South Dakota, a place of extremes, where parched land meets frigid air and exiled Native Americans still struggle to live in peace alongside ranchers. Nystrom's poems weave together the voices of her childhood with ghosts of the last two tumultuous centuries and articulate with such subtle and unsentimental grace that each side is understood.
Under Stars: Poems by Tess Gallagher
Under Stars
The sleep of this night deepens
because I have walked coatless from the house
carrying the white envelope.
All night it will say one name
in its little tin house by the roadside.
I have raised the metal flag
so its shadow under the roadlamp
leaves an imprint on the rain-heavy bushes.
Now I will walk back
thinking of the few lights still on
in the town a mile away.
In the yellowed light of a kitchen
the millworker has finished his coffee,
his wife has laid out the white slices of bread
on the counter. Now while the bed they have left
is still warm, I will think of you, you
who are so far away
you have caused me to look up at the stars.
Tonight they have not moved
from childhood, those games played after dark.
Again I walk into the wet grass
toward the starry voices. Again, I
am the found one, instimate, returned
by all I touch on the way.
Sailing Alone Around the Room: New and Selected Poems by Billy Collins
From four earlier collections, which … secured for him a national reputation, Collins offers the lyric equivalent of an album of Greatest Hits. In "Forgetful-ness," memories of the contents of a novel "retire to the southern hemisphere of the brain, to a little fishing village where there are no phones." In "Osso Buco," a poem about gustatory pleasure, the "lion of content-ment" places a warm heavy paw on the poet's chest. In "Marginalia," he catalogs the scrawled comments of books' previous readers: " 'Absolutely,' they shout to Duns Scotus and James Baldwin. 'Yes.' 'Bull's-eye.' 'My man!' " And he also serves us a generous portion of new poems, including "Man Listening to Disc," a jazz trip with headphones, and "The Iron Bridge," a wildly speculative, moving elegy.
Whether old or new, these poems will catch their readers by exhilarating surprise. They may begin with irony and end in lyric transcendence. They may open with humor and close with grief. They may, and often do, begin with the everyday and end with infinity. Wise, funny, sad, stealthy, and always perfectly clear, these poems will not be departing for that little fishing village with no phones for a long, long time. Billy Collins, possessed of a unique lyric voice, is one of American poetry's most sensational nightingales.
Lit From Inside: 40 Years of Poetry From Alice James Books edited by Anne Marie Macari & Carey Salerno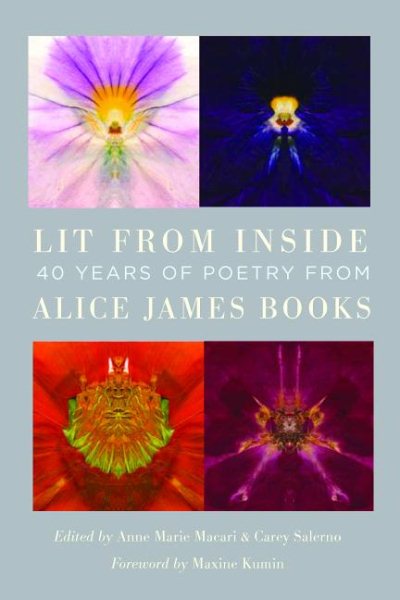 Alice James Books has been one of the major forces in American poetry for the past four decades, and to celebrate the press's 40th birthday, its executive director (Salerno), also a poet herself, and Macari, a longtime Alice James author, have combed over all the books published by the press to compile this anthology of highlights. Alongside its exclusive focus on poetry, what makes Alice James unusual is its editorial process: new Alice James authors join the editorial board, in turn picking the next crop; in this way, Alice James has launched the careers of too many important American poets to list here while also charting the aesthetic swings of late 20th and early 21st-century poetry, from the early, confessional poems of Jane Kenyon ("I feel my life start up again,/ like a cutting when it grows/ the first pale and tentative/ root hair in a glass of water"); cryptic domestic scenes from Fanny Howe ("The baby/ was made in a cell/ in the silver & rose underworld"); poetry by a clear -eyed Forrest Gander ("Outside hundreds stumble by./ They are not injured. You,/ not dreaming"); the early efforts of the recently lauded Laura Kasischke ("I// begin to believe there's nothing left/ in this world/ I could bear to eat") to works by poets recently risen to prominence (Matthea Harvey, Reginald Dwane Betts, Brian Turner) and those now rising (Idra Novey, Stacy Gnall).
Unbearable Splendor by Sun Yung Shin
In her third collection, Shin (Rough, and Savage) develops a cybernetic poetic through the employment of lyric loops, diagrams, epigrams, academic screeds, and assorted documents. This feat of varied language and form reveals Shin's innovative poetic thinking and malleable conception of what a work of poetry might be capable of accomplishing. In particular, she explores the Korean adoptee narrative through the lens of the cyborg. Shin's epigraph quotes Donna Haraway, author of "A Cyborg Manifesto," and Roy Batty, a replicant from the film Blade Runner, to set the tone, and she returns to the theme later in the collection, asking, "Is Antigone the original cyborg?" Experimental poetry often erases the personal, but Shin's formal experimentation is both political and intimate. For example, she includes several copies of documents, among them her own family registration from South Korea that designated her as an adoptee to the U.S. "I didn't know I was human," Shin writes. "My past was invented, implanted, and accepted. I'm more real than you are because I know I'm not real." These strange, kinetic fairy tales illuminate Shin's novel take on the adoptee narrative and her visionary use of language.