Late tonight, after midnight and before dawn, you may have a chance to catch a "shooting star" or twenty; the Geminid meteor showers will be visible all over the country, and with the crescent moon and a little low-light luck, the show will be spectacular.
In honor of night skies and falling stars, here are a few "starry" titles to put some sparkle in your reading.
Under the Wide and Starry Sky by Nancy Horan
Horan's second novel (following Loving Frank) again mines the true story of a remarkable woman of history to impressive effect. This time, instead of Mameh Cheney and Frank Lloyd Wright, the central couple is Fanny Osbourne and Robert Louis Stevenson. The novel charts their relationship from their first meeting in France, where Fanny takes her two daughters after leaving her irresponsible, cheating husband, Sam, and the death of her son, Hervey. At first, it's Louis's cousin Bob who teases Fanny out of her grief, but ultimately Louis, 10 years younger than Fanny, is the one who wins her heart. The novel goes on to describe Fanny's return to America (she is later followed by Louis) and her divorce from Sam, marriage to Louis, and their years spent in the South Pacific traveling from one island to another. Her own writing talent is submerged in the wake of Louis's growing fame, and her influence over him creates envy among his circle of friends in Britain. This beautifully written novel, neatly balanced between its two protagonists, makes them come alive with grace, humor, and understanding. Horan's empathy for both Louis and Fanny allows her to capture their life together with all the complexity and nuance of a real-life relationship.
100 Things To See In the Night Sky: From Planets and Satellites to Meteors and Constellations, Your Guide to Starguazing by Dean Regas
The night sky is full of amazing things to see—from shooting stars and constellations to planets and satellites—but it can be hard to tell what you're seeing, or where to look for the best view. 100 Things to See in the Night Sky gives you a clear picture of what you can see on any given night, either using a small telescope, or just your naked eye.
Each object is presented as a separate entry, with background information on the makeup, appearance, and history of the object, along with easy-to-follow instructions on how to find it. For astronomy and space fans of all ages, this guide helps you explore the galaxy and see the stars—while keeping your feet on the ground.
Starry Night: A Christmas Novel by Debbie Macomber
Contemporary romance queen Macomber (Rose Harbor in Bloom) hits the sweet spot with this tender tale of impractical love. Newspaper reporter Carrie Slayton is sick of covering Chicago society events, so she hops on a plane to the Alaskan bush, determined to track down Finn Dalton, a bestselling author no one knows anything about. Finn hates reporters, guards his privacy, distrusts romance after a bad breakup, and resents his mother for leaving him and his father. Naturally, he refuses to engage in any personal conversation with Carrie when she arrives. But he can't control his attraction to her and slips a few times during her stay, showing his sensitive side. By the time Carrie goes home, they are halfway in love, and they bridge the distance with e-mail and text messages. Carrie has to be extremely patient while Finn works through his issues, but their happy ending is a delicious Christmas miracle well worth waiting for.
Space Is Just a Starry Night by Tanith Lee (Short Fiction)
Lee's powerful science fiction collection assembles 12 tales published between 1979 and 2011, plus two originals. All of them showcase her strong, entertaining, and often gorgeous writing. "The Beautiful Biting Machine" packs an irresistible wallop as it describes a sensuous sideshow at the Nightfair, a sort of giant carnival of dark desires. The werewolf myth takes on a deep space element in "Moon Wolf," in which Lee's prose is lovely: "The ocean came in, sigh on sigh, quintessential sea, to solace the onyx shore, under the solar light that did not glare any more but was smooth as the taste of cream." The intriguing "With a Flaming Sword" puts an unusual spin on the story of Adam and Eve (in a manner that might fluster Biblical literalists). "Written in Water" also tackles creation myths, with a far grimmer outcome. This is a solid grouping of stories that deserves a broad audience.
The Comet Seekers by Helen Sedgwick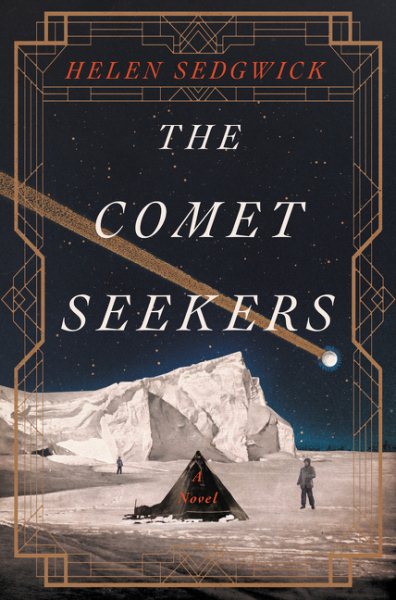 Former research physicist Sedgwick mines the mysteries of the solar system and human desire to craft a haunting and wonderfully ethereal debut novel about first loves, inescapable loss, and the search for one's place in a complicated world. When Róisín, an Irish scientist studying comets, and François, a French chef, reunite at a research base in the frigid wilds of Antarctica in 2017, the two seem virtually broken because of their respective pasts. Róisín, who followed her intergalactic studies from Ireland and France to Hawaii and New York over the course of decades, spent just as many years trying to make sense of and move beyond an illicit relationship with her cousin Liam. François arrived at the base with his own baggage: Severine, his dying mother, had insisted throughout her life that the ghosts of her ancestors are real. Sedgwick tackles a centuries-spanning interconnected narrative by placing each chapter within the context of a comet's appearance in the sky. The sections that chronicle Severine's conversations with her dearly departed are marked by their magical realism, but those that explore Róisín and Liam's star-crossed romance are the standouts, both quietly moving and delicately portrayed. Uniquely structured and stylistically fascinating, the multilayered story comes full circle in a denouement that is both heartbreaking and satisfying.
Fallen Sky: An Intimate History of Shooting Stars by Christopher Cokinos
Meteorites are valuable scientifically, monetarily, and poetically, and examples worthy of all three adverbs populate Cokinos' exposition of his attraction to these messengers from space, in which he ponders their empirical clues to the origin of the solar system and the way they loom over the lives of those in their sway. One instance of the latter is this book, in which Cokinos threads his private problem of leaving a marriage and embarking on a new relationship through his expeditions to places of meteoric significance. His journeys induce his empathic mode toward the likes of Daniel Barringer, who bankrupted himself drilling for the iron meteorite he thought was beneath Arizona's Meteor Crater, and Harvey Nininger, who in the 1920s abandoned a safe teaching career for a penurious life of collecting, dealing, displaying, and popularizing meteorites, with his presumably sighing family in tow. English professor Cokinos may not have succumbed to Nininger-like obsession, but the travels his own meteor-mania inspired––to Greenland, Germany, Australia, and Antarctica––crackle with scientific curiosity, story-telling élan, and emotional honesty.
The Afterlife of Stars by Joseph Kertes
In 1956 the Beck family flees Hungary. The Soviet Union has just sent in troops to quell a rebellion, and the Jewish Becks, who only survived the Holocaust through the assistance of Swedish diplomat Raoul Wallenberg and his right-hand man, Paul Beck, are looking for a new life in Canada. The Beck sons, 13-year-old Attila and nine-year-old Robert, are very close, with Attila taking the lead and his brother following in his wake. On a stopover in Paris, Attila is convinced that their cousin Paul, who has been missing for a decade and was last seen in the city, is hiding here. Attila knows no boundaries as he opens his family's cache of secret letters and steals what he can to find his relative. However, the Soviets are also searching for Paul. VERDICT This follow-up to Kertes's National Jewish Book Award—winning Gratitude, which focused on Paul's efforts in the rescue of the Hungarian Jews during World War II, is a beautifully written story of brotherly love, family, and the intersection of history in the 20th century.