Thanksgiving, the most delicious holiday of the year, is coming up next week. To help you prepare, we've made a list of some of the special Thanksgiving cookbooks, full of recipes and cooking and planning tips, that you can get from the library. Whether you're hosting for the first time or are an old pro, there's always something new to learn about how to make this Thanksgiving the tastiest yet!
Vegan Holiday Kitchen: More than 200 Delicious, Festive Recipes for Special Occasions by Nava Atlas
Have yourself a happy vegan holiday! This exciting, inviting cookbook by veteran author Nava Atlas brilliantly fills the biggest gap in the vegan repertoire with more than 200 delectable, completely doable recipes for every festive occasion.
Atlas, one of the most respected names in vegetarian and vegan cooking, addresses everything from Thanksgiving, Hanukkah, and Christmas –to celebratory brunches, lunches, dinners, potlucks, and buffets. Such mouthwatering dishes as Coconut Butternut Squash Soup, Green Chili Corn Bread, Hearty Vegetable Pot Pie, delicate Ravioli with Sweet Potatoes and Sage, and Cashew Chocolate Mousse Pie will convince even the most skeptical eater that vegan cooking is well worth celebrating.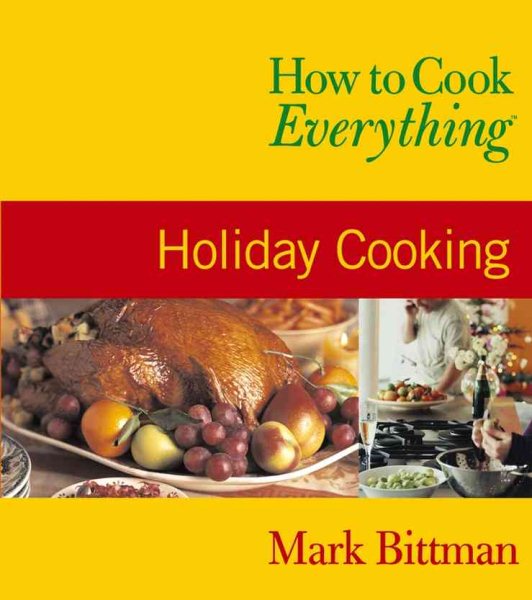 How to Cook Everything: Holiday Cooking by Mark Bittman
Roast Turkey and Gravy. Baked Ham with Maple Glaze. Traditional Apple Pie. Death-by-Chocolate Torte. Holidays are when you pull out all the stops, and with How to Cook Everything: Holiday Cooking, you can make your special feast or buffet spread without stress.
Mark Bittman, the award-winning author of the bestselling kitchen classic How to Cook Everything, shares his favorite simple-and infinitely flexible-holiday recipes. You'll be able to cook for big feasts and parties from Thanksgiving to New Year's and for other holiday gatherings all year-round. To inspire you and help you plan your meals, you'll find Bittman's straight talk on cooking and special features, including creative recipe variations and ideas, tips for shopping, preparing, and cooking the recipes, and much more.
The Thanksgiving Table: Recipes and Ideas to Create Your Own Holiday Tradition by Diane Morgan
Sometimes the only thing Thanksgiving hosts have to be thankful for is putting their feet up at the end of the day. For novices, orchestrating The Feast is no easy task. And even for old pros it's a bit of a challenge. Enter The Thanksgiving Table: the lowdown on the how to. Everything from the foolproof secret to a moist bird and how to truss and carve it to menu suggestions and simple, elegant table settings. Plus, recipes for classics like cranberry relish as well as more innovative dishes–and a whole section devoted to vegetarians. And maybe best of all, do-ahead tips and plenty of food and technique photographs to make planning in advance a breeze. The Thanksgiving Table is a kitchen essential–a book for which every home cook can give thanks.
Thanksgiving by Lou Seibert Pappas
Thanksgiving explores over 50 of your favorite holiday recipes, offering both traditional and contemporary dishes. With helpful tips for organizing the meal, working with turkey, and creating an inspired menu, this volume will ease the stress, making way for a wonderful Thanksgiving.
Whether you prepare and host Thanksgiving dinner every year or you are new to the experience, the task can be a daunting one. Finding the perfect turkey, timing the oven use just right, and estimating how much food and drink you need are just some of the tips and techniques that can be found in the pages of Thanksgiving.
Each chapter explores a different part of the Thanksgiving feast. Classic Roast Turkey, Pan Gravy, Buttermilk Mashed Potatoes, and Apple & Cranberry Stuffing can fill your table with traditional dishes, while Curried Butternut Squash Soup, Hickory-Smoked Turkey, and Gingersnap Pumpkin Pie are fresh approaches to familiar favorites.
Tips for staying organized, selecting, preparing, and carving the turkey, and putting together a menu—complete with a work plan and beverages—round out the book.
Thanksgiving 101: Celebrate America's Favorite Holiday with America's Thanksgiving Expert by Rick Rodgers
On the fourth Thursday in November, 75 million American families sit down to the hearty feast known as Thanksgiving dinner. But earlier in the week, someone in the house has been worrying about doing that dance between mashing potatoes and mixing stuffing; about basting fourteen pounds of turkey and baking that pumpkin pie; and about getting it all on the table at just the right moment.
One of the most popular cooking teachers in America, Rick Rodgers has taught his Thanksgiving 101 classes for years, and now he's collected all of his know-how, recipes, menus, and trade secrets. Rick is with you every step of the way, from shopping through chopping, from choosing the best recipes to selecting the right wine. Whether you're looking for turkey and all the traditional trimmings, chutneys, and chowders; a vegetarian dinner with just the trimmings; or new ideas for regional classics, including Cajun- or Italian-inspired tastes, Thanksgiving 101 serves up a delicious education for novice and experienced cooks alike.
Thanksgiving: How to Cook It Well by Sam Sifton
From one of America's finest food writers, the former restaurant critic for The New York Times, comes a definitive, timeless guide to Thanksgiving dinner–preparing it, surviving it, and pulling it off in style. From the planning of the meal to the washing of the last plate, Thanksgiving poses more–and more vexing–problems for the home cook than any other holiday. In this smartly written, beautifully illustrated, recipe-filled book, Sam Sifton, the Times's resident Thanksgiving expert, delivers a message of great comfort and solace: There is no need for fear. You can cook a great meal on Thanksgiving. You can have a great time. With simple, fool-proof recipes for classic Thanksgiving staples, as well as new takes on old standbys, this book will show you that the fourth Thursday of November does not have to be a day of kitchen stress and family drama, of dry stuffing and sad, cratered pies. You can make a better turkey than anyone has ever served you in your life, and you can serve it with gravy that is not lumpy or bland but a salty balm, rich in flavor, that transforms all it touches. Here are recipes for exciting side dishes and robust pies and festive cocktails, instructions for setting the table and setting the mood, as well as cooking techniques and menu ideas that will serve you all year long, whenever you are throwing a big party. Written for novice and experienced cooks alike, Thanksgiving: How to Cook It Well is your guide to making Thanksgiving the best holiday of the year. It is not fantasy. If you prepare, it will happen. And this book will show you how.