Anna Dewdney, author and illustrator of many great books for children, including the "Llama Llama" books beloved by readers of all ages, passed away on September 3rd, following a 15-month battle with brain cancer. We feel the loss of a warm, creative, and generous woman. Her obituary in Publisher's Weekly shared more about her perceptive and giving spirit: "Dewdney wrote a 2013 opinion piece for the Wall Street Journal, emphasizing that 'empathy is as important as literacy' when it comes to educating children. 'When we read with a child, we are doing so much more than teaching him to read or instilling in her a love of language,' she wrote. 'We are doing something that I believe is just as powerful, and it is something that we are losing as a culture: by reading with a child, we are teaching that child to be human. When we open a book, and share our voice and imagination with a child, that child learns to see the world through someone else's eyes.'"
Dewdney requested that people honor her by, in lieu of a funeral service, read to a child instead. We'd like to share some of our staff's favorite read-aloud (and read along) titles for children in tribute to this wonderful author. Open one of these old and cozy or new and different books, and share the world with a child.
Thank you for your stories and rest well, Anna.
Llama, Llama Red Pajama by Anna Dewdney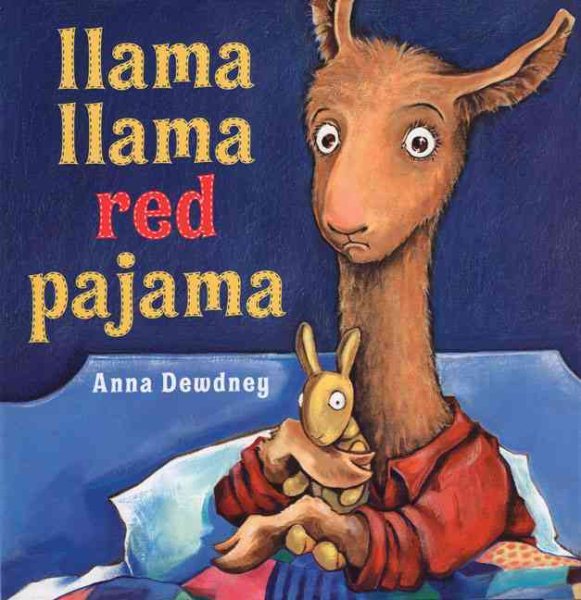 Dewdney published many more titles featuring "llama llama," a furry, four-legged toddler with recognizable fears, frustrations, and the need for reassurance. This first title, a quintessential bedtime story, is a great read to share with little ones getting ready to go to sleep and learning to trust the nighttime world to be safe and sound, even when Mama turns off the light and leaves the room. Dewdney's rhythmic verse and sweet illustrations of a very expressive Llama Llama make this a favorite read at tucking-in time.
---
Classics
The Snowy Day by Ezra Jack Keats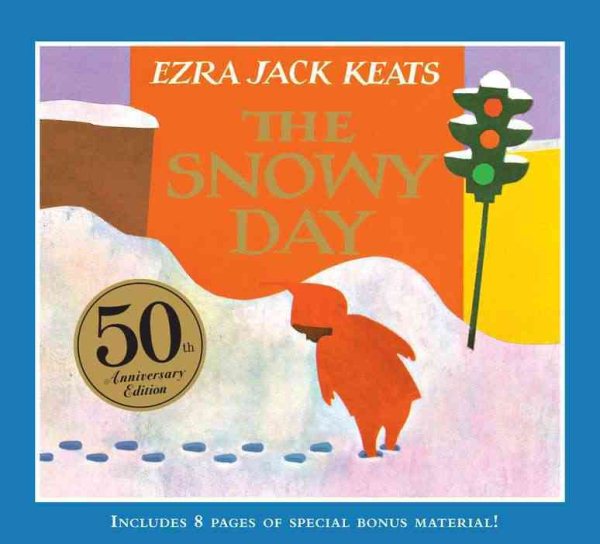 In 1962, a little boy named Peter put on his snowsuit and stepped out of his house and into the hearts of millions of readers. The Snowy Day transformed children's literature with its pioneering portrayal of an African-American child and the charming story and artwork that won it the Caldecott Medal.
This 1963 Caldecott Medal winner has bright, bold illustrations and simple text that invite its readers to share quiet wonder and excitement of a snowy day right along with Peter.
---
Green Eggs and Ham by Dr. Seuss
€œ
"Do you like green eggs and ham?"€ asks Sam-I-am in this Beginner Book by Dr. Seuss. "In a house or with a mouse?… In a boat or with a goat? … On a train… or in a tree?" Sam keeps asking persistently. With unmistakable characters and signature rhymes, Dr. Seuss's beloved favorite has cemented its place as a children'€™s classic. In this most famous of cumulative tales, the list of places to enjoy green eggs and ham, and friends to enjoy them with, gets longer and longer. Follow Sam-I-am as he insists that this unusual treat is indeed a delectable snack to be savored everywhere and in every way.
Of course, any Dr. Seuss book is a solid read aloud choice — go on, just try the tongue-twisting fun of Fox in Socks…
---
The Napping House written by Audrey Wood, illustrated by Don Wood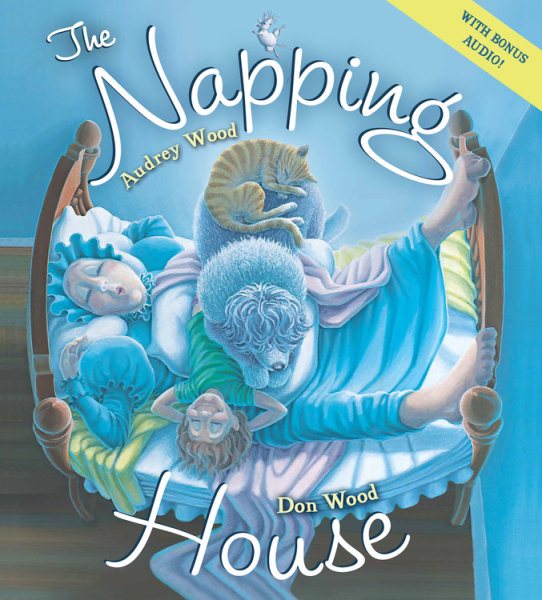 A cozy bed, a snoring granny, a dreaming child, a dozing dog, a snoozing–WAIT! There's a surprise in store, and little ones will want to discover it over and over again. So pull on your sleeping cap and snuggle in for a timeless cumulative tale that's truly like no other.
Cumulative tales like this one, which build on elements progressively (like "The House that Jack Built" or "There was an Old Woman Who Swallowed a Fly") are great fun to read aloud–the listeners can't help but chime in as they follow the pattern. Don Wood's illustrations of  a crowded bed that nearly bursts out of the pages, and the fun surprise at the end add laughter to the mix, and The Napping House works equally well with a group of kids in a classroom or with one kid at bedtime.
---
A naughty little boy, sent to bed without his supper, sails to the land of the wild things where he becomes their king. Winner of the 1964 Caldecott Medal,
Where the Wild Things Are
became an iconic book that has inspired a movie, an opera, and the imagination of generations. It continues to be one of the best loved books of all time the world over, by the one and only Maurice Sendak. No one captures childhood fears, feelings and wild imagination quite like Sendak–always with humor, great affection, and respect for the complicated people children are.
---
The Giving Tree by Shel Silverstein  
I Love You This Much written by Robert Munsch, illustrated by Sheila McGraw
These two seem to be their own genre of classic children's book: stories representing the unconditional love and devotion parents have for their children, and titles that are absolutely beloved by many (and not so much by many others), so you be the judge and give them a try–you may discover a new favorite. (Feel free to comment about these and any other favorite read alouds — did we miss yours?)
Since it was first published over fifty years ago, Shel Silverstein's poignant picture book for readers of all ages has offered a touching interpretation of the gift of giving and a serene acceptance of another's capacity to love in return. Simple line drawings illustrate this tale of a tree devoted to a boy as he grows from childhood to old age.
In Munsch's book, illustrated with soft color washes by McGraw, a young woman holds her newborn son and looks at him lovingly. Softly she sings to him: "I'll love you forever /I'll like you for always /As long as I'm living /My baby you'll be." So begins the story that has touched the hearts of millions worldwide.
---
The Gunniwolf (retold) by Wilhelmina Harper, illustrated by Barbara Upton
Wilhelmina Harper's The Gunniwolf is a classic-beloved by readers, storytellers, and teachers. Unavailable for years, it is back with fabulous new illustrations by Barbara Upton, perfect for our time. Its vibrant, rhythmic read-aloud text-sprinkled with dialect-tells the story of Little Girl, who is forbidden to enter the jungle for fear of meeting the Gunniwolf. But when she does, this version's Gunniwolf seems almost playful-if just a little scary. But Little Girl learns her lesson, and a new generation of listeners will be rapt with delight at this "guten sweeten" book.
---
A Bad Case of Stripes and No, David! by David Shannon
Modern classics–these two were recommended by more than one staff member, and Shannon's colorful, energetic illustrations add to the fun.
In A Bad Case of Stripes, Camilla Cream loves lima beans, but she never eats them. Why? Because the other kids in her school don't like them. And Camilla Cream is very, very worried about what other people think of her. In fact, she's so worried that she's about to break out in…a bad case of stripes!
When David Shannon was five years old, he wrote and illustrated his first book. On every page were these words: NO, DAVID! . . . and a picture of David doing things he was not supposed to do. Now David is all grown up. But some things never change. . . .Over fifteen years after its initial publication, NO, DAVID! remains a perennial household favorite, delighting children, parents, and teachers alike. David is a beloved character, whose unabashed good humor, mischievous smile, and laughter-inducing antics underline the love parents have for their children–even when they misbehave.
---
Dry, With a Twist
Tons of titles suggested by staff are darkly humorous, or offer a twist to surprise and delight readers. These read alouds definitely offer something to entertain the grownups doing the reading equally well as their audience. Much of the funny in these books is created by the visuals, so the illustrations really pack a punch in pushing the story wherever it's going.
Shh! We Have a Plan by Chris Haughton
Four friends creep through the woods, and what do they spot? An exquisite bird high in a tree! "Hello birdie," waves one. "Shh! We have a plan," hush the others. They stealthily make their advance, nets in the air. Ready one, ready two, ready three, and go! But as one comically foiled plan follows another, it soon becomes clear that their quiet, observant companion, hand outstretched, has a far better idea. Award-winning author-illustrator Chris Haughton is back with another simple, satisfying story whose visual humor plays out in boldly graphic, vibrantly colorful illustrations.
---
I Want My Hat Back by Jon Klassen
The bear's hat is gone, and he wants it back. Patiently and politely, he asks the animals he comes across, one by one, whether they have seen it. Each animal says no, some more elaborately than others. But just as the bear begins to despond, a deer comes by and asks a simple question that sparks the bear's memory and renews his search with a vengeance. Told completely in dialogue, this delicious take on the classic repetitive tale plays out in sly illustrations laced with visual humor– and winks at the reader with a wry irreverence that will have kids of all ages thrilled to be in on the joke.
(If you like this one, try another title illustrated by Klassen, Sam and Dave Dig a Hole  by Mac Barnett)
---
Duck! Rabbit! by Amy Krouse Rosenthal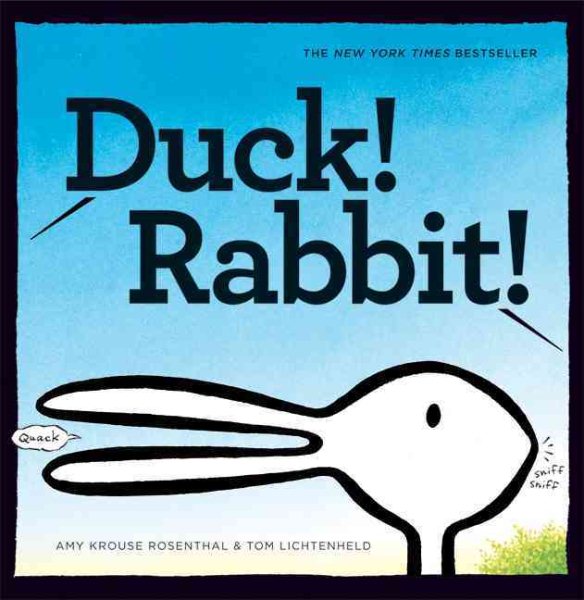 From the award-winning author of Little Pea, Little Hoot, and Little Oink comes a clever take on the age-old optical illusion: is it a duck or a rabbit? Depends on how you look at it! Readers will find more than just Amy Krouse Rosenthal's signature humor here — there's also a subtle lesson for kids who don't know when to let go of an argument. A smart, simple story that will make readers of all ages eager to take a side, Duck! Rabbit! makes it easy to agree on one thing: reading it again! Even the barcode on the back cover is in on the gag, so stay with it through the end.
---
My Lucky Day  or by Keiko Kasza
When a delicious-looking piglet knocks on Mr. Fox's door "accidentally," the fox can hardly believe his good luck. It's not every day that dinner just shows up on your doorstep. It must be his lucky day! Or is it?…In a funny trickster tale of her own, Kasza keeps readers guessing until the surprise ending when they'll realize it was piglet's lucky day all along.
Rising star Claudia Rueda makes a sparkling debut as author and artist in this winsome story based on a traditional French and Spanish play song for the very young.
As Duck, Bunny, Moose, Beaver, and others play between the trees, Wolf continues getting dressed: undershirt, pants, T-shirt, socks, and shoes. By the time he has combed his hair and put on his backpack, Wolf is VERY hungry, and the animals are suddenly VERY afraid. (Spoiler: no animals were harmed in the making of this story–hang through to the end and you'll see why.)
With perfect comic pacing, Greg Pizzoli introduces us to one funny crocodile who has one big fear: swallowing a watermelon seed. What will he do when his greatest fear is realized? Will vines sprout out his ears? Will his skin turn pink? This crocodile has a wild imagination that kids will love.
With bold color and beautiful sense of design, Greg Pizzoli's picture book debut takes this familiar childhood worry and gives us a true gem.
Hoot Owl is no ordinary owl. He is a master of disguise! In the blackness of night, he'€™s preparing to swoop on his prey before it can realize his dastardly tricks. Look there's a tasty rabbit for him to eat! Hoot Owl readies his costume, disguising himself as . . . a carrot! Then he waits. The rabbit runs off. Never mind! Surely his next juicy target will cower against such a clever and dangerous creature as he! Kids will hoot at Sean Taylor's deliciously tongue-in-beak narration, belied by the brilliantly comical illustrations of Jean Jullien.
Staff recommendation: "Join Hoot Owl as he sets off to get dinner for the evening. Every now and then you'll come across a picture book that just BEGS to be read aloud.  Hoot Owl is one of those books."
---
Fantastic, Surreal, Just A Little Weird
These picks are a little (or a lot) offbeat.  Quirky and sophisticated read-alouds that delight the imagination.
Max, a dog who dreams of being a poet in Paris, must be content to remain in New York City with his friends Bruno, a painter, and Marcello , a crazy architect. The staff who suggested this title added, "I've read this book to many people of all ages and it's a huge hit with all of them. When my niece comes to visit ( who will be 27 next week) it's the first book she pulls off the shelf to read!"
---
13 Words by Lemony Snicket, illustrated by Maira Kalman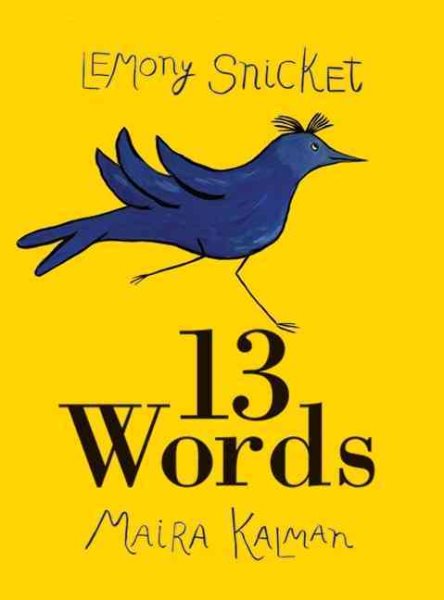 (Editor's note: This one's my pick, and it's on my mental shelf of all-time favorites.) It's like "Mad-Libs,  illustrated by Dali"…There is something interesting and off-beat at every clip, and Kalman's illustrations hit just the right quirky tone. It's a charming story (ostensibly about a despondent [word #2] bird [word #1]) and her friend's effort to cheer her up), and the ending isn't entirely "happy," but somehow with the despondence and the weirdness, it leaves you feeling like you get it perfectly. And you like it.
(Bonus: You get to make up your own aria and sing it at the end.)
Lucy is sure there are wolves living in the walls of their house — and, as everybody says, if the wolves come out of the walls, it's all over. Her family doesn't believe her. Then one day, the wolves come out. But it's not all over. Instead, Lucy's battle with the wolves is only just beginning. McKean's illustrations, full of shadows and subdued color, add lots of atmosphere to this fun story. Great for bedtime (for kids who like just a little bit of spookiness), and also great for performing with a crowd, with plenty of sound effects and voices to create.
These staff picks are all great read-alouds; some books demand reading aloud, and are so much better with an audience of at least one…here are some of our favorites in that category, which compel reader(s) to perform, and listener(s) participate in some way: to sing along, respond along, move along, or just laugh out loud.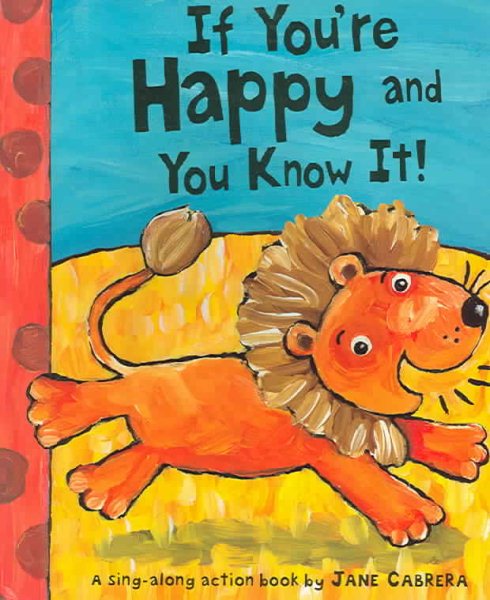 In Cabrera's book, an elephant, a monkey, and a giraffe join other animals to sing different verses of this popular song that encourages everyone to express their happiness through voice and movement.
In Hort's take on a familiar kids' song,  "The seals on the bus go 'errp, errp, errp' / 'errp, errp, errp' …. All around the town…" What will the people on the bus do when more and more raucous animals hop on board? This beastly twist on a favorite song will have young readers errping and roaring and honking along.
This one has a song begging to be sung, a pattern of question-and-answer for the listeners to respond to, and a wonderful lesson in seeing the bright side. Pete the Cat goes walking down the street wearing his brand new white shoes. Along the way, his shoes change from white to red to blue to brown to WET as he steps in piles of strawberries, blueberries, and other big messes! But no matter what color his shoes are, Pete keeps movin' and groovin' and singing his song…because it's all good. The illustrations are gorgeously jazzy and saturated in color, and if this one works for you, there are many more
Pete the Cat
books to follow up.
Staff recommendation: "Walter Mitty as the boy who doesn't want to take out the trash and would rather imagine being anyplace else. Great art and lots of good voices to read the characters in."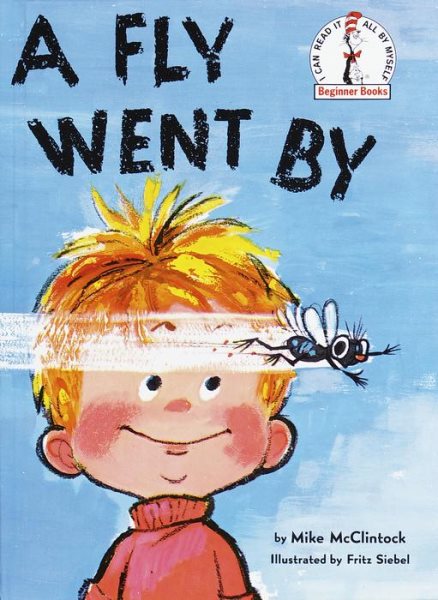 A fly is followed by a menagerie of characters in this humorous cumulative tale edited by Dr. Seuss. When a young boy sees a frantic fly buzzing past, he asks where the fly is headed—and with that, a chase begins. The fly and the frog, the cat and the dog, the pig and the cow, the fox and the hunter . . . who is causing all the fuss?
A Fly Went By
will have young readers buzzing with excitement!
Poor Duncan just wants to color. But when he opens his box of crayons, he finds only letters, all saying the same thing: His crayons have had enough! They quit! Beige Crayon is tired of playing second fiddle to Brown Crayon. Black wants to be used for more than just outlining. Blue needs a break from coloring all those bodies of water. And Orange and Yellow are no longer speakingeach believes he is the true color of the sun. What can Duncan possibly do to appease all of the crayons and get them back to doing what they do best?
In the companion and followup to The Day the Crayons Quit,  Duncan embarks on a daring rescue when a group of crayons ask him to save them from various fates that include being lost under a sofa cushion, melted in the dryer or comparably damaging destinies.
Kids will be imagining their own humorous conversations with crayons and coloring a blue streak after sharing laughs with Drew Daywalt and New York Times bestseller Oliver Jeffers.
---
Judging by this longer-than-usual list of books, staff had plenty of favorites to share, and there were many more than we could share here, including almost anything by Mo Willems, recommended by multiple people.
For more staff picks, visit our Youth Services staff's guide to even more Read Alouds for kids of every age.