Sunday is Mother's Day.  With that in mind, here are some recent works, fiction and nonfiction, that address motherhood in all its complexity.
Happy Reading!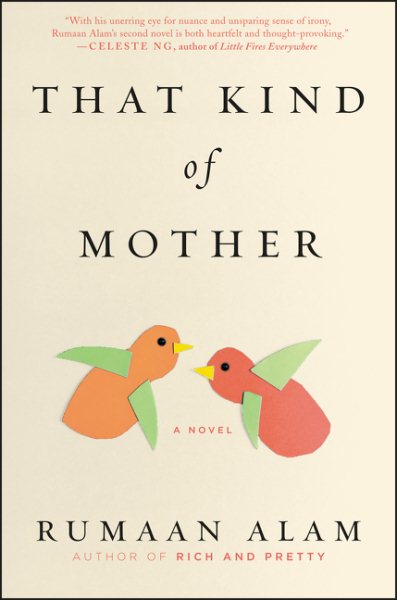 That Kind of Mother by Rumaan Alam
Alam's second novel (following Rich and Pretty), an often incisive chronicle of an unconventional family, opens with the birth of poet Rebecca's first child, Jacob. In the hospital, the awed and rather intimidated new mother meets a proverbial savior, a pregnant nursing consultant named Priscilla, who becomes Rebecca's nanny. When Priscilla dies giving birth to her own child and her grown daughter, Cheryl, decides she cannot raise the child herself, the distraught and guilt-ridden Rebecca convinces her husband, Christopher, that they should adopt the child, a boy they name Andrew. Rebecca welcomes Cheryl into the life of her baby brother, but the husbands and parents of both Cheryl, who is black, and Rebecca, who is white, struggle to come to terms with the melding of the two families. Alam skillfully tackles issues of race and parenthood; in one searing scene, after Cheryl's husband is stopped by the police, Cheryl begs the bemused Rebecca to let them talk with Andrew about the perils faced by black men in America. While Rebecca's career as a prize-winning poet isn't convincing, readers will empathize with the herculean effort Rebecca puts into her vocation as a parent. The novel offers a memorable depiction of a mother's journey as her children grow and her marriage collapses.
White Walls: A Memoir About Motherhood, Daughterhood, and the Mess In Between by Judy Batalion
Batalion, the daughter of Jewish parents who were children of Holocaust survivors, writes about her search for identity outside of the history and community she inherited at birth. She relates how her family's history impacted her formative years growing up in Montreal, and how her upbringing affected her in early adulthood. At the crux of the author's work and efforts to define herself is her relationship with her mother, a hoarder with other mental health issues. To escape the long shadow of her mother's mental illness and her father's complacency, Batalion escapes first to Harvard University for her degree and later to South Africa and then to London to pursue postgraduate study. She channels her search for self into travel writing, stand-up comedy, and theatrical performance. Initially, she takes on the role of mother with ambivalence and then fiercely as it absorbs into the fabric of her self-identity. VERDICT This is a modern woman's look at how we construct who we are—both through conscious, painstaking effort, as well as through acknowledging and embracing the comforting, familiar, and routine flows of our family histories.
The Brightest Sun by Adrienne Benson
Set in 1990s Kenya, this expansive debut from Benson follows the lives of five women over two generations that interconnect in extraordinary circumstances. Leona is an anthropological researcher living among the rural Maasai near Narok. After becoming pregnant during a capricious fling, Leona has her child in the isolated Maasai village and feels eerily disconnected from the baby. In her confusion, she turns to her Maasai friend, Simi, who provides her stability. Unable to have children, Simi adopts baby Adia to fulfill her dream of being a mother and to restore her identity and prestige in the strongly maternal Maasai society. In Liberia, Jane, a diplomat's wife who used to live in Narok, grapples with fear: a violent coup during her pregnancy has deeply affected her psyche, and she is consumed by the worry that her brother's mental illness will appear in her unborn daughter, Grace. Years later, teenaged Adia and Grace become friends after meeting in class and decide to track down Adia's father, which opens up many old wounds for all five women. Though the characters are intriguing, strong women, much of their personalities are delivered in chunks of exposition that slow the plot. Benson's depiction of motherhood across circumstances will please readers interested in stories about forging homes in other cultures.
Saturday's Child: A Daughter's Memoir by Deborah Burns
The upstate New York resort that her family built was a magical place for Deborah as a child. Swimming along the pool's edge to catch snatches of the women's conversations, playing on the porch, or punching buttons on the jukebox in the lounge while the musicians were resting, she hovered on the edges of an adult world where her mother, often compared to Rita Hayworth, was the undeniable star. The redhead would hold court under the adoring gaze of her daughter, who only saw her mother on weekends during the summer. It was a far cry from the rest of the year, which Deborah spent in a cramped city apartment with her father and the two unmarried aunts who raised her. And, yet, like all her memories of her distant, unconventional mother, those days are suffused with the sadness of someone looking for explanations as to why her mother was so rarely there with her. Poignant and absorbing, Saturday's Child carefully examines how a daughter's childhood obsession became a more complicated reckoning with her mother's secrets.
The Family Next Door by Sally Hepworth
Couples Fran and Nigel, Essie and Ben, and Ange and Lucas seem to have it all together. Happy marriages, thriving children, and as neighbors, they are the best of friends. But each family harbors its own secrets, which come to light when new neighbor Isabelle, who's single, shows up on the quiet cul-de-sac, bringing with her an air of mystery and intrigue. Isabelle takes a particular liking to Essie and the two quickly become best friends. Meanwhile, Fran is literally running herself into the ground, taking multiple runs daily. Ange is faced with a decision that no wife or mother wants to believe as her marriage to Lucas is put to the test. Hepworth (The Mother's Promise) pens a work full of searing secrets and riveting realizations. Readers will be sucked in from the first page, as this fast-paced and alternating point-of-view chapters make it hard to put down. With jaw-dropping discoveries, and realistic consequences, this novel is not to be missed.
The End We Start From by Megan Hunter
The postapocalyptic literary novel is currently in vogue almost to the point of redundancy, but Hunter's slim yet sharp debut offers a level of precision and interiority rarely seen in the genre. The novel opens with an unnamed narrator giving birth to her first child, known only as Z, just as a mysterious and devastating flood overtakes London. But rather than focus on the specifics of the catastrophe, the story instead becomes an investigation of the tumultuous internal life of a new mother. The scaffolding of the apocalypse narrative—hiding out from potential threats while also endlessly searching for supplies, trying to establish normalcy in the face of the unknown as sacrifices and forays into dangerous territory become increasingly necessary—serve more as a backdrop to the strangeness of a new human life. The narrator forges relationships with other survivors as she moves from place to place in search of safety and community, but the journey toward recognizing the world for what it has become is made all the more poignant as she begins to see it through the eyes of Z, a child who has never known it to be anything other than what it is now. Told in a voice that is by turns meditative, desperate, and hopeful, this novel showcases Hunter's considerable talents and range.
Confessions of a Domestic Failure by Bunmi Laditan
Laditan's novel will strike a hysterical and compassionate chord with new moms. Once upon a time, Ashley Keller knew what eight hours of sleep was. Now, she's an exhausted stay-at-home mom to her eight-month-old daughter, Aubrey, while her husband, David, builds his dream advertising agency. When mommy blogger extraordinaire (and Ashley's personal guru) Emily Walker announces a contest alongside her new book, Motherhood Better, Ashley is thrilled to be chosen to participate in the "Motherhood Better Bootcamp." Ashley's desperate to become the dream mom she had always fantasized she would be. Satirizing the unrealistic expectations that society places on mothers to be one and all, Laditan hits the high mark for hilarity and humanity. While at times ungrateful about her life, Ashley still manages to recognize the precious gift she's been given in Aubrey and the moments of pure love amid the chaos. Laditan writes with a comic gift, giving readers a hilarious send-up of mommy culture in today's world.
The Unprotected by Kelly Sokol
A woman still haunted by her father's death grapples with postpartum depression in Sokol's engrossing debut. Lara James has it all: a handsome husband, a high-powered job in advertising, and a beautiful home in Richmond, Va. Lara and Will are happy with their charmed, and childless, life, so no one is more surprised than Lara when she begins yearning for a baby. Will is thrilled, and she gets pregnant quickly, only to suffer a miscarriage. Endless rounds of hormone shots and IVF sessions takes a toll on Lara's body and her marriage, but after four years, she gets pregnant, and baby Auden is born. Lara quits her job to stay at home, but Auden is colicky, and her constant crying chafes at Lara's already raw nerves, while tenuous help from Will makes it worse, and Lara begins to spiral. Motherhood is not a one-size-fits-all proposition, and Sokol's streamlined prose takes an unflinching look at an illness that is still treated as taboo.