November 13 is World Kindness Day, and this year, we are encouraged by WQED Pittsburgh, a public broadcasting station where the children's show aired, to wear a cardigan in honor of one of the kindest, Mr. Rogers. If you've donned a Fair Isle, a fuzzy mohair a red cardigan like the iconic one Mr. Rogers wore; if you are going a little more out of your way to greet your neighbor or help out a friend; if you've already got tickets to the new biopic starring Tom Hanks; you may be interested in one of the titles below about Mr. Rogers and about the wisdom of kindness,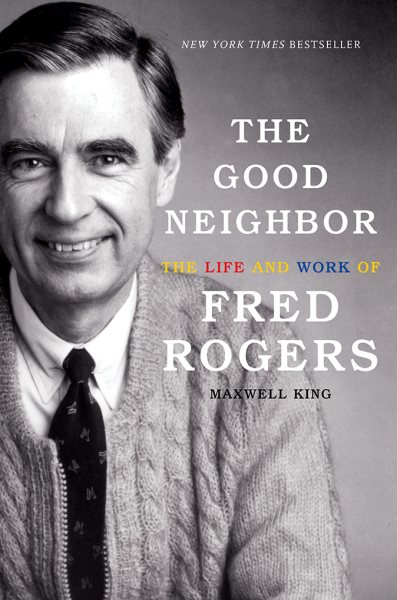 Good Neighbor: The Life and Work of Fred Rogers by Maxwell King
Former Philadelphia Inquirer editor King reveals Fred Rogers (1928–2003), creator of "Mister Rogers' Neighborhood," whose guiding principles of his Christian faith—kindness, acceptance, and unconditional love—underpinned every aspect of his professional and personal life. Arranged more or less chronologically, this title traces Rogers's development from an often sickly and overweight child, subjected to childhood bullying and an overprotective mother. His upbringing, while often socially isolating, provided a rich environment for the development of his creativity; he went on to study musical composition and become ordained as a Presbyterian minister. Neighborhood, which ran from 1968 to 2001, was radical for its time, covering war, death, divorce, and other controversial topics honestly and respectfully for children's understanding. Myths about Rogers—that his sweaters covered up tattoos or that he was a Vietnam sniper—are debunked, revealing instead that he was exactly as he appeared.
Mister Rogers: It's You I Like produced by JoAnn Young, John Paulson ; directed by John Paulson ; written by JoAnn Young ; produced by Young Productions, John Paulson Productions ; the Fred Rogers Company [DVD]
Pays tribute to the beloved Fred Rogers and the nearly 900 episodes of the landmark children's television program first seen in 1968 on PBS. In this 60-minute retrospective hosted by award-winning actor Michael Keaton, enjoy memorable segments including visits with Koko the Gorilla and the iconic trip to the Crayola crayon factory.
Kindness Boomerang: How to Save the World (and Yourself) Through 365 Daily Acts by Orly Wahba
Kindness Boomerang contains 365 daily acts, one for each day of the year, accompanied by inspirational quotes, personal stories on the power of paying it forward, and tangible steps to change your outlook on life. This book empowers you to bring positivity into your everyday life and the lives of those around you. Wahba invites you to practice kindness in relationships, kindness with yourself, kindness with nature and kindness in many more forms. This book is a call to action for anyone who wants to live a more connected and fulfilling life.
I'm Proud of You: My Friendship With Fred Rogers by Tim Madigan
Fred Rogers, the "gentle icon" of public television's Mister Rogers' Neighborhood , taught generations of children and their parents how to express feelings and relate to others in a positive way. Rogers was also an ordained Presbyterian minister who regularly studied the important spiritual thinkers and shared his faith with an eclectic range of adult friends. Madigan, a journalist with the Fort Worth Star-Telegram , became one of those friends after writing a piece on Rogers and Captain Kangaroo (Bob Keeshan) in 1995. Soon Madigan and Rogers were corresponding, and Madigan reprints here many of their letters and e-mails. They built a warm, supportive friendship, one that nourished Madigan through his self-doubt "Furies" and the difficult death of his dear brother. As Rogers grieved for Madigan's losses and several of his own, the two taught each other about the beauty of giving and receiving "unconditional regard" from a beloved friend. So close did they become that readers may share Madigan's shock at discovering that Rogers was gravely ill–too weak for a last visit before his death in 2003. Even if readers don't feel their day-to-day lives transformed by this luminous memoir, in times of grief or of loss they'll know which book on their shelf to turn to.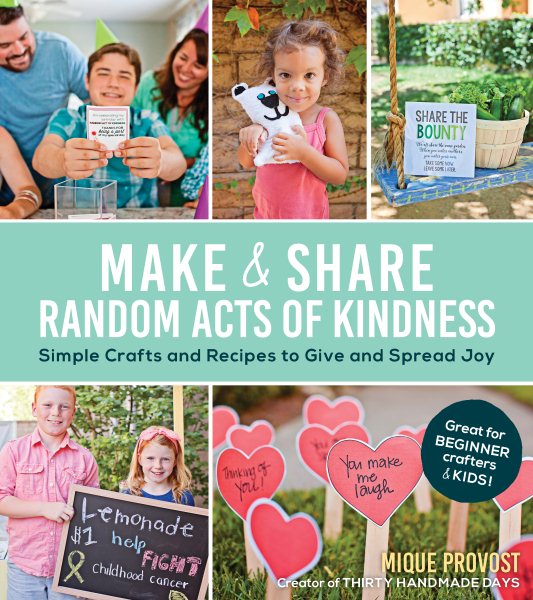 Make & Share Random Acts of Kindness: Simple Crafts and Recipes to Give and Spread Joy by Miguel Provost; photography by Alyssa Bazar
Brighten the lives of family members, friends or strangers with the fun projects in Make & Share Random Acts of Kindness. With nearly 50 beginner and kid-friendly crafts, quick and easy ideas and delicious homemade sweet treats and meals, this book is a unique wealth of inspiration to help you and your family spread love all around. The book features stories about acts of kindness, inspiring quotations and tips like teaching kindness to your kids. Mique Provost—the mom behind the popular craft and cooking blog Thirty Handmade Days—includes her one-of-a-kind designs and templates to accompany the projects. They are on easy-to-tear-out pages so you can always be ready for an act of kindness on the go.
Mique started doing random acts of kindness to celebrate the birthday of her oldest son who has autism. That magical day sparked a tradition in Mique's family and community, and now she invites you to join in the kindness movement with these special activities.
With Make & Share Random Acts of Kindness, you and your family can make a difference in the lives of others—and have a blast while you do it!
Many Ways to Say I Love You: Wisdom For Parents and Children From Mr. Rogers  by Fred Rogers
Many Ways to Say I Love You is a treasury of segments from speeches and observations from his years of working with parents and children, as well as other materials from books, songs, TV commentary, and more. Using stories from his own life, Mister Rogers discusses the importance of children and the role of parents.