Inspired by an old NPR story about the charming and cozy Icelandic custom of jolabokaflod ("Christmas book flood"), and by today's chilly, wet weather–an atmosphere prime for curling up with a book (or a whole stack of books), our list this week is books about books. Including fiction (literary, mystery, science fiction) and nonfiction, here are just a very few suggestions to inspire you. May the only flood you endure be one of good things to read!
Happy Reading!
Ink and Bone: The Great Library by Rachel Caine
In a magical, near-future world where the library at Alexandria never fell and stands as the parent for the Serapeum, or daughter libraries, a supremely powerful body known as the Great Library closely controls all knowledge. Sixteen-year-old Jess Brightwell, born into a family of book smugglers, loves to immerse himself in the rare, forbidden, original volumes, though he doesn't have the heart for the family business. Jess's father finds another way for him to be of use: Jess is allowed to test for a coveted position in the Library but must agree to help out the family in return. Thus begins his descent into the dangers of discovery, the politics of power, and the wastes of war. Stylistically familiar fantasy elements (an elite school reached by train, magical automata) immerse readers in a world where survival often comes with a steep price. Caine's (the Morganville Vampires series) elegantly detailed descriptions bring Jess's world to vivid life in a fast-paced, action-oriented plot that will leave readers breathlessly anticipating not just the next page but the next book in the Great Library series.
84, Charing Cross Road by Helene Hanff 
84, Charing Cross Road is a charming record of bibliophilia, cultural difference, and imaginative sympathy. For 20 years, an outspoken New York writer and a rather more restrained London bookseller carried on an increasingly touching correspondence. In her first letter to Marks & Co., Helene Hanff encloses a wish list, but warns, "The phrase 'antiquarian booksellers' scares me somewhat, as I equate 'antique' with expensive." Twenty days later, on October 25, 1949, a correspondent identified only as FPD let Hanff know that works by Hazlitt and Robert Louis Stevenson would be coming under separate cover. When they arrive, Hanff is ecstatic–but unsure she'll ever conquer "bilingual arithmetic." By early December 1949, Hanff is suddenly worried that the six-pound ham she's sent off to augment British rations will arrive in a kosher office. But only when FPD turns out to have an actual name, Frank Doel, does the real fun begin.
The Book of Lost Things by John Connolly
Thriller writer Connolly (Every Dead Thing) turns from criminal fears to primal fears in this enchanting novel about a 12-year-old English boy, David, who is thrust into a realm where eternal stories and fairy tales assume an often gruesome reality. Books are the magic that speak to David, whose mother has died at the start of WWII after a long debilitating illness. His father remarries, and soon his stepmother is pregnant with yet another interloper who will threaten David's place in his father's life. When a portal to another world opens in time-honored fashion, David enters a land of beasts and monsters where he must undertake a quest if he is to earn his way back out. Connolly echoes many great fairy tales and legends (Little Red Riding Hood, Roland, Hansel and Gretel), but cleverly twists them to his own purposes. Despite horrific elements, this tale is never truly frightening, but is consistently entertaining as David learns lessons of bravery, loyalty and honor that all of us should learn.
Wild Things: The Joy of Reading Children's Literature As an Adult by Bruce Handy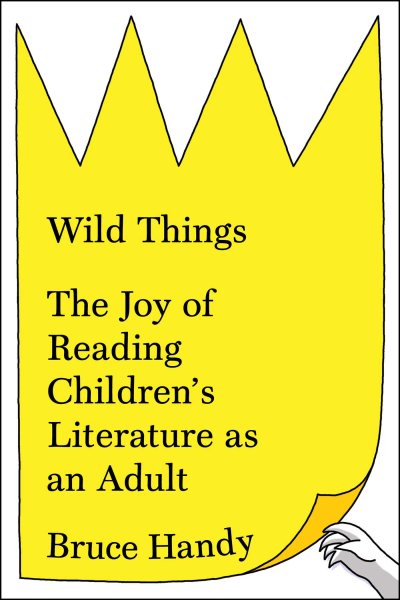 In an article about why he chose to write for children rather than adults, Theodore Geisel, aka Dr. Seuss, acknowledged the "low pay, low status" accorded his profession. As if to redress this state of affairs, Handy, a contributing editor at Vanity Fair, does his part here to give the iconic authors of children's literature their due in his spirited, perceptive, and just outright funny account of reading childhood favorites through adult eyes. He takes readers from the first books of childhood—such as Margaret Wise Brown's classic Goodnight Moon, Maurice Sendak's surreal Where the Wild Things Are and In the Night Kitchen, and the dizzy, euphoric invention of Dr. Seuss's works—to the chapter books of Beverly Cleary, Laura Ingalls Wilder, and E.B. White. He asserts that these works represent a shift from the dull realm of the Dick and Jane storybooks to more complex and idiosyncratic material. Biographical sketches of the authors complement thematic analyses of their works. Interestingly, most of the authors profiled here had no children of their own, but nonetheless had a great understanding of children's feelings and viewpoints. Handy's breezy, friendly style lends the book a bright feeling, as of old friends discussing old friends, and this book will surely leave its readers with a new appreciation for childhood favorites.
The Bookstore by Deborah Meyler
Between studying art history at Columbia University on a prestigious scholarship and a two-week fling with a magnetic, wealthy man, 23-year-old Esme Garland from England is happily settling into life in Manhattan when she discovers she's pregnant. Mitchell van Leuven, the father of her child, is enchanted by Esme but not in love, and he dumps her as she is on the brink of telling him about the child. The scholarship fund won't support two, so Esme takes a job in a secondhand bookstore on Broadway, a gathering place for the eccentric, who watch over her through her pregnancy. Then Mitchell reappears, and once again she is seduced by his worldly charms. This character-driven novel is about a woman trying to fit in and discovering her own path. It's about the man who sweeps Esme into his orbit against her better judgment and who is battling his own demons. It's about the quirky booksellers who adopt Esme as part of the family, including Luke, a guitar-playing loner whose blunt honesty serves as her annoyance and salvation. Above all, it's about the love of books. A deeply satisfying novel you will keep close to your heart, written in a style by turns witty and poetic.
Howards End is on the Landing: A Year of Reading from Home by Susan Hill
One day British novelist Susan Hill went to the bookshelves in her home looking for a copy of Howards End. She didn't find it (at least not at first), but she did come upon several other books she had never read. That started her thinking: Why not devote a year's reading time just to the books on her own shelves? The project launched, she began a systematic browse through all the books in her house (it's an old house with lots of floors and shelves on every floor, not to mention the landings between floors). This delightful bibliophile's memoir records her experience, both the browsing and the reading. Along the way, she developed a kind of second project: If she could only keep 40 books, which ones would they be? The list of 40 appears at the end, and it's a charmingly eccentric batch of books, but the real fascination in reading Hill's ruminations isn't about the list but, rather, about how she reads and how living with books enriches her life. Those who collect books in any fashion will be lost in their own memories as Hill muses on "things that fall out of books," or defends writing in books, or, best of all, argues against overorganizing the books on her shelves (no more wonderful surprises). Just try to read this book without nosing around your own shelves.
The Eyre Affair by Jasper Fforde
Surreal and hilariously funny, this alternate history, the debut novel of British author Fforde, will appeal to lovers of zany genre work (think Douglas Adams) and lovers of classic literature alike. The scene: Great Britain circa 1985, but a Great Britain where literature has a prominent place in everyday life. For pennies, corner Will-Speak machines will quote Shakespeare; Richard III is performed with audience participation à la Rocky Horror and children swap Henry Fielding bubble-gum cards. In this world where high lit matters, Special Operative Thursday Next (literary detective) seeks to retrieve the stolen manuscript of Dickens's Martin Chuzzlewit. The evil Acheron Hades has plans for it: after kidnapping Next's mad-scientist uncle, Mycroft, and commandeering Mycroft's invention, the Prose Portal, which enables people to cross into a literary text, he sends a minion into Chuzzlewit to seize and kill a minor character, thus forever changing the novel. Worse is to come. When the manuscript of Jane Eyre, Next's favorite novel, disappears, and Jane herself is spirited out of the book, Next must pursue Hades inside Charlotte Brontë's masterpiece.
Browsings: A Year of Reading, Collecting, and Living With Books by Michael Dirda
The columns collected in this volume—all originally posted to the American Scholar's home page in 2012 and 2013—make up a valentine to people who love reading and books. Washington Post book critic Dirda, a self-described "bookish literary journalist," channels his passion for reading and collecting books into "essays, meditations, and rants" touching on a wide variety of literary topics: famous pets in fiction, Shelley's poetry, Poe and Baudelaire, and the legacy of Dover Books, among others. Several pieces describe his excursions to used bookstores and library book sales, where acquisitions serve as madeleines, prompting reminiscences about fellow book collectors, forgotten classics, and underappreciated writers. Some of the essays stray far from the world of books—for example, a nightmarish vacation trip to a Colorado state park and a weeklong power blackout at the height of summer—but their literary allusions show how reading invariably seeps into all aspects of a book-lover's life. Dirda is gently self-deprecating about his writing and enthusiasms, but his humility is contradicted by his huge roster of literary acquaintances, vast knowledge of both popular and literary fiction, and omnivorous tastes as a reader.
Balzac and the Little Chinese Seamstress by Dai Siije; translated from the French by Ina Rilke
The Cultural Revolution of Chairman Mao Zedong altered Chinese history in the 1960s and '70s, forcibly sending hundreds of thousands of Chinese intellectuals to peasant villages for "re-education." This moving, often wrenching short novel by a writer who was himself re-educated in the '70s tells how two young men weather years of banishment, emphasizing the power of literature to free the mind. Sijie's unnamed 17-year-old protagonist and his best friend, Luo, are bourgeois doctors' sons, and so condemned to serve four years in a remote mountain village, carrying pails of excrement daily up a hill. Only their ingenuity helps them to survive. The two friends are good at storytelling, and the village headman commands them to put on "oral cinema shows" for the villagers, reciting the plots and dialogue of movies. When another city boy leaves the mountains, the friends steal a suitcase full of forbidden books he has been hiding, knowing he will be afraid to call the authorities. Enchanted by the prose of a host of European writers, they dare to tell the story of The Count of Monte Cristo to the village tailor and to read Balzac to his shy and beautiful young daughter. Luo, who adores the Little Seamstress, dreams of transforming her from a simple country girl into a sophisticated lover with his foreign tales. He succeeds beyond his expectations, but the result is not what he might have hoped for, and leads to an unexpected, droll and poignant conclusion.