The titles below, on crime and forensics, are inspired by a story on Atlas Obscura about the detailed "Nutshell Studies of Unexplained Deaths" created by Frances Glessner Lee, the "Mother of Forensics."  A selection of Lee's crime-scene dioramas will be on display at the Smithsonian American Art Museum's Renwick Gallery beginning later this month, so if you'd like to examine the evidence in miniature and in person, plan your visit to Washington D.C. Meanwhile, you can practice some armchair forensics by checking out some of the options below, both fiction and nonfiction.
To misquote Sir Arthur Conan Doyle's Sherlock Holmes: "Elementary, my dear Watson."
Of Dolls and Murder [DVD]; directed by Susan Marks ; produced by John K. Dehn & Susan Marks ; written by Susan Marks
Explores the Nutshell Studies of Unexplained Death, a collection of dollhouse crime scenes created by Frances Glessner Lee in the 1940s, which are still used as a teaching tool for crime scene investigations.
Scientific Sherlock Holmes: Cracking the Case with Science and Forensics by James F. O'Brien
O'Brien, emeritus distinguished professor of chemistry at Missouri State University, delves deep into the science behind Sherlock Holmes in this brief and engaging volume. The book is clearly aimed at Holmes aficionados—each of Sir Arthur Conan Doyle's 60 stories featuring the detective are referenced via accepted Holmesian shorthand (e.g., "ABBE" for "The Abbey Grange")—yet the author treats his subject and his associates (Doctor Watson, the long-suffering Mrs. Hudson, and Holmes's bête noir, Professor Moriarty) with obvious affection, and it's catching—his journey into Sherlockian science is both endearing and informative. O'Brien discusses Holmes's investigative acumen according to categories of evidence (e.g., finger- and footprints, hand- and typewritten documents) and provides interesting real-life examples of crimes solved with similar techniques, such as the New York Zodiac killings and the Lindbergh baby kidnapping. O'Brien, a loyal fellow test-tuber, devotes significant energy to defending Holmes against criticisms that he was a sorry chemist, and while the asides are interesting, the intensely detailed science behind the apologia might turn off casual readers. Nevertheless, the scientific rigor with which both scribe and subject approach their tasks is abundantly evident.
The Poisoner's Handbook: Murder and the Birth of Forensic Medicine in Jazz Age New York by Deborah Blum
Pulitzer Prize–winning science journalist Blum (Ghost Hunters) makes chemistry come alive in her enthralling account of two forensic pioneers in early 20th-century New York. Blum follows the often unglamorous but monumentally important careers of Dr. Charles Norris, Manhattan's first trained chief medical examiner, and Alexander Gettler, its first toxicologist. Moving chronologically from Norris's appointment in 1918 through his death in 1936, Blum cleverly divides her narrative by poison, providing not only a puzzling case for each noxious substance but the ingenious methods devised by the medical examiner's office to detect them. Before the advent of forensic toxicology, which made it possible for the first time to identify poisons in corpses, Gettler learned the telltale signs of everything from cyanide (it leaves a corrosive trail in the digestive system) to the bright pink flush that signals carbon monoxide poisoning. In a particularly illuminating section, Blum examines the dangers of bootleg liquor (commonly known as wood, or methyl, alcohol) produced during Prohibition. With the pacing and rich characterization of a first-rate suspense novelist, Blum makes science accessible and fascinating.
Déjà Dead [Temperance Brennan series #1] by Kathy Reichs
With this 1998 debut, Reichs introduced herself as a prodigious new talent in the crime game. Someone is murdering and dismembering women in Montreal, and forensic anthropologist Temperance "Tempe" Brennan, a middle-aged North Carolina transplant, is having a tough time convincing the Canadian version of the old boy network that the grizzly slayings are the work of a single killer… A master of nimble phrasing, Reichs herself entertains readers even as she educates them in some of the finer points of forensics. Tempe is as comfortable negotiating the meaner streets of Montreal as she is talking about the myriad types of saws available to those with a penchant for dismembering their fellow human beings. The final confrontation scene is as gripping as anything in recent suspense fiction, and it is impossible not to like the vulnerable, observant and competent Tempe, who refreshingly admits to never having "gotten used to" the maggots that abandon corpses on the cutting table.
There are currently 18 books in the series, and the long-running Fox Television series "Bones"  (available on DVD with your library card) is based on the Temperance Brennan series.
Death's Acre: Inside the Legendary Forensic Lab The Body Farm Where the Dead Do Tell Tales by Bill Bass and Jon Jefferson
In this memoir, Bass, a premier forensic anthropologist, recounts how a life spent studying dead bodies led to the creation of "The Anthropolgy Research Facility" (aka the Body Farm), a plot of land near the University of Tennessee Medical Center where Bass and his colleagues monitor the decomposition of human corpses in various environments. The book is structured around the 1981 creation of the Body Farm, and the early chapters focus on some of Bass's trickier cases to demonstrate his need for more information about the science of forensics. The later chapters take a closer look at how the scientific analysis of Body Farm corpses has helped Bass and other anthropologists solve some of the toughest and most bizarre cases of their distinguished careers. Though professional and conscientious when describing the medical facts of each case, Bass, writing with journalist Jefferson, proves to be a witty storyteller with a welcome sense of humor. He also does a nice job balancing accounts of death and decomposition with decidedly not-so-morbid tidbits from his personal life. Furthermore, the poignancy of how he reacts to the deaths of his first two wives reflects the compassion he feels for the dead and their surviving family members he encounters in his working life. Bass may deal with the dead, but he has a lust for life that comes across in his writing. While the grisly details may not make this a must-read for everyone, those who do pick it up might just be pleasantly surprised by how Bass brings death to life.
Postmortem [Kay Scarpetta series #1] by Patrica Cornwell
Cornwell, a former reporter who has worked in a medical examiner's office, set her first mystery in Richmond, Va. Chief medical officer for the Commonwealth of Virginia, Dr. Kay Scarpetta, the narrator, dwells on her efforts to identify "Mr. Nobody," the strangler of young women. The doctor devotes days and nights to gathering computer data and forensic clues to the killer, although she's hampered by male officials anxious to prove themselves superior to a woman. Predictably, Scarpetta's toil pays off, but not before the strangler attacks her; a reformed male chauvinist, conveniently nearby, saves her.
The Kay Scarpetta series currently has 29 titles.
The Killer of Little Shepherds: A True Crime Story and the Birth of Forensic Science by Douglas Starr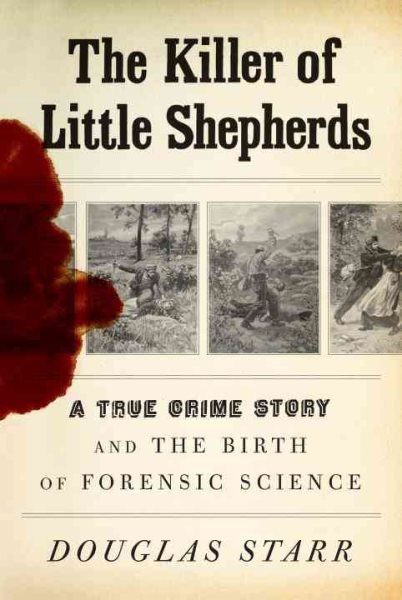 Starr (Blood) eloquently juxtaposes the crimes of French serial killer Joseph Vacher and the achievements of famed criminologist Dr. Alexandre Lacassagne during France's belle époque. From 1894 to 1897, Vacher is thought to have raped, killed, and mutilated at least 25 people, though he would confess to only 11 murders. Lacassagne, who headed the department of legal medicine at the university in Lyon, was a pioneer in crime scene analysis, body decomposition, and early profiling, and investigated suspicious deaths, all in an era when rural autopsies were often performed on the victim's dinner table. Lacassagne's contributions to the burgeoning field of forensic science, as well as the persistence of investigating magistrate Émile Fourquet, who connected crimes while crisscrossing the French countryside, eventually brought Vacher to justice. Vacher claimed insanity, which then (as now) was a vexed legal issue. Lacassagne proved the "systematic nature" of the crimes. Starr, co-director of Boston University's Center for Science and Medical Journalism, creates tension worthy of a thriller; in Lacassagne, he portrays a man determined to understand the "how" behind some of humanity's most depraved and perhaps take us one step closer to the "why."
The Surgeon [Rizzoli & Isles series #1] by Tess Gerritsen
Skillfully drawn surgical backdrops sizzling with ER intensity balance out the obligatory romantic intrigue and familiar plucky police professionals, attesting to Gerritsen's authentic medical expertise as a former physician. Dr. Catherine Cordell, the main character in this chilling tale, thought she had shot and killed her rapist and would-be murderer two years earlier in steamy Savannah, where he was a surgery intern at her hospital. Now, in Boston, as another hot summer begins, he appears to have miraculously returned and embarked once again on his grisly mission: he rapes women, then surgically removes their wombs. As two intrepid detectives Thomas Moore and Jane Rizzoli investigate, Cordell begins to doubt her own memories (or lack of) and discovers that not even her OR is safe. Gliding as smoothly as a scalpel in a confident surgeon's hand, this tale proves that Gerritsen (Harvest; Life Support; Bloodstream; Gravity), originally a romance writer, has morphed into a dependable suspense novelist whose growing popularity is keeping pace with her ever-finer writing skills.
There are currently 15 titles in the series, and the television series "Rizzoli & Isles" based on Gerritsen's books is available on DVD with your library card.
Carved in Bone [Body Farm series #1] by Jefferson Bass
The pseudonymous Bass makes a successful first foray into fiction. The author is actually the writing team of Dr. Bill Bass, the forensic anthropologist who founded the legendary Body Farm (Tennessee's experimental laboratory devoted to the study of the way human corpses decompose), and Jon Jefferson, a journalist and filmmaker. Their new sleuth, Dr. Bill Brockton, is obviously based on Dr. Bass, sharing his first name, initials and his status as founder of the Body Farm. (The two coauthored Death's Acre, included above.) Still recovering from the emotional devastation of his wife's death, Dr. Brockton stumbles across a mummified female body, and his passion for the truth enmeshes him in a probe that verifies rumors of local corruption. His particular skills are vital to identifying the corpse as well as those who might have been motivated to kill the victim decades earlier.
There are currently 10 titles in the series.