This Thursday, August 25th will mark the 100th anniversary of the founding of the National Park Service. Here in California we are a lucky to have several beautiful and unique National Parks right in our home state. Use one of these guidebooks to plan your next trip to explore California's National Parks or check out a DVD to see some of the sights from your own home.
The Explorer's Guide to Death Valley National Park by T. Scott Bryan and Betty Tucker-Bryan
Originally published in 1995, soon after Death Valley National Park became the fifty-third park in the US park system, The Explorer's Guide to Death Valley National Park was the first complete guidebook available for this spectacular area.
Now in its third edition, this is still the only book that includes all aspects of the park. Much more than just a guidebook, it covers the park's cultural history, botany and zoology, hiking and biking opportunities, and more. Information is provided for all of Death Valley's visitors, from first-time travelers just learning about the area to those who are returning for in-depth explorations.
California's Channel Islands: A History by Frederic Caire Chiles
Prehistoric foragers, conquistadors, missionaries, adventurers, hunters, and rugged agriculturalists parade across the histories of these little-known islands on the horizon of twenty-first century Southern California. This chain of eight islands is home to a biodiversity unrivaled anywhere on Earth. In addition, the Channel Islands reveal the complex geology and the natural and human history of this part of the world, from the first human probing of the continent we now call North America to modern-day ranchers, vineyardists, yachtsmen, and backpackers.
Not far below the largely undisturbed surface of these islands are the traces of a California that flourished before historical time, vestiges of a complex forager culture originating with the first humans to cross the Bering Land Bridge and spread down the Pacific coast. This culture came to an end a mere 450 years ago with the arrival of Spanish conquistadors and missionaries, whose practices effectively depopulated the archipelago. The largely empty islands in turn attracted Anglo-American agriculturalists, including Frederic Caire Chiles's own ancestors, who battled the elements to build empires based on cattle, sheep, wine, and wool. Today adventure tourism is the heart of the islands' economy, with the late-twentieth-century formation of Channel Islands National Park, which opened five of the islands to the general public.
For visitors and armchair travelers alike, this book weaves the strands of natural history, island ecology, and human endeavor to tell the Channel Islands' full story.
Hiking Joshua Tree National Park: 38 Day and Overnight Hikes by Bill and Polly Cunningham
Hiking Joshua Tree National Park provides detailed information on thirty-eight of the best day hikes and extended backpacking trips in this desert wonderland 140 miles east of Los Angeles. The diverse landscape–shaped by strong winds, unpredictable precipitation, and coimatic extremes–offers numerous opportunities for year-round exploration. With rich narratives and beautiful photographs, this guidebook provides all you need for hiking the extensive network of trails among granite rock formations, pinon and juniper forests, sandy washes, and the symbols of the park, the Joshua trees.
Yosemite: The Complete Guide by James Kaiser
Filled with gorgeous photographs, this full-color guidebook showcases the highlights and hidden gems of Yosemite National Park. From the thundering base of Yosemite Falls to sparkling granite of El Capitan, Yosemite: The Complete Guide equips travelers with everything they need to make the most of their time in the park.
Fascinating background chapters on history, geology and wildlife bring Yosemite Valley to life. Detailed color maps make travel planning easy. Outdoor adventures are covered in-depth, including over 20 of Yosemite's Best Hikes. Fully updated with comprehensive travel information including the new rules for hiking Half Dome.
Whatever your interests, driving to the spectacular viewpoints at Glacier Point, hiking to pristine lakes near Tuolumne Meadows, dining at the historic Ahwahnee Hotel, Yosemite: The Complete Guide puts the best of this iconic park at your fingertips.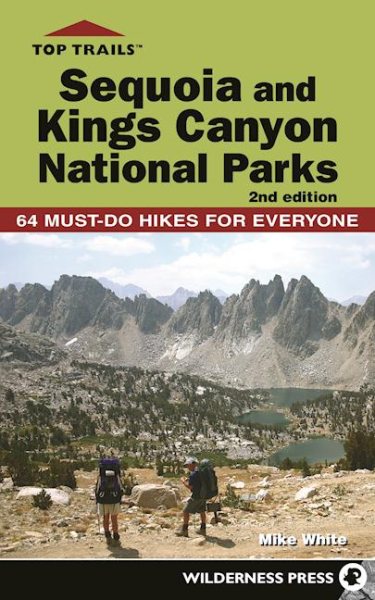 Sequoia and Kings Canyon National Parks: 64 Must-Do Hikes for Everyone by Mike White
The southern High Sierra, including Sequoia and Kings Canyon National Parks and the surrounding John Muir, Jennie Lakes, and Monarch Wildernesses, is one of the most magnificent natural areas in the world. Blessed with the largest trees on earth (giant sequoias), one of the deepest canyons in North America (Kings Canyon), and the highest mountain in the continental U.S. (Mt. Whitney), the greater Sequoia-Kings Canyon region offers unparalleled mountain majesty. Along with such superlatives, hundreds of miles of trail provides access to a boundless number of high mountain lakes, wildflower-covered meadows, cascading streams, deep forests, and craggy peaks. This guide presents the best curated selection of trips suitable for varied skill-level to this portion of John Muir's Range of Light.
Lassen Volcanic National Park: A Complete Hikers' Guide by Mike White
Discover some of Northern California's best-kept secrets in the most comprehensive guide to Lassen Volcanic National Park by experienced author Mike White. Explore bubbling mudpots, wildflower-carpeted meadows, forest-rimmed lakes, and view-packed summits on trails ranging from easy to strenuous. This essential guide features more than 90 day hikes and backpacking trips to popular destinations such as Lassen Peak, Bumpass Hell, and Manzanita Lake, plus lesser-known areas like Boiling Springs Lake, Terminal Geyser, and Cinder Cone.
In addition to Lassen Volcanic National Park, there are trips in the Hat Creek Reservation Area, the greater Susanville-Chester region, Warner Valley, Butte Lake, Drakesbad, and McArthur-Burney Falls Memorial State Park.
Completely updated from the previous edition, this guide gives detailed trip narratives and easy-to-scan icons highlighting the best spots for views, hydrothermal features, wildflowers, camping, and swimming.
California's National Parks on DVD
America's Wild Spaces: Death Valley DVD
This enlightening documentary explores the otherworldly landscape of California's Death Valley National Park, from its mountainous peaks (over 10,000 feet tall) to its notorious depths (nearly 300 feet below sea level). As National Geographic's cameras reveal the surprising variety of life that dwells in these extremely hot and dry conditions, they also chronicle the efforts of scientists to preserve the park for future generations.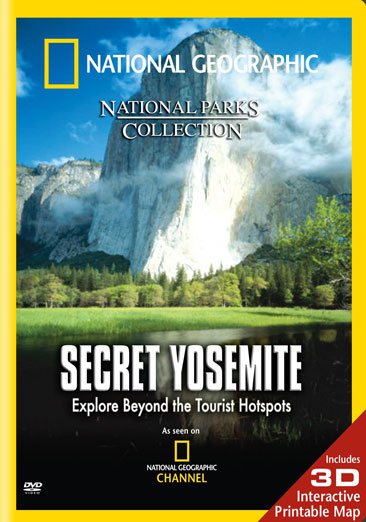 America's Wild Spaces: Secret Yosemite DVD
Go beyond the tourist hotspots and experience a day in the life of Yosemite National Park as never before. Home to over two thousand plant and animal species, Yosemite attracts more than 3.5 million visitors from around the globe each year. Known for its steep granite cliffs, impressive waterfalls and the world's largest living trees – the Giant Sequoias – this beautiful haven is home to a host of wild creatures ranging from black bears, bobcats, foxes, snakes and a variety of bats. Explore the hidden reaches of this vast wilderness found beyond the postcard-perfect views.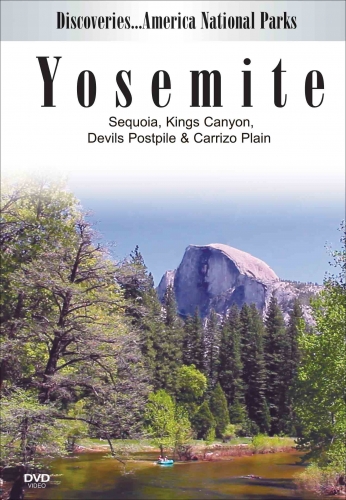 Yosemite, Sequoia, Kings Canyon, Devils Postpile & Carrizo Plain DVD
The latest entry in Bennett-Watt's series of video travelogues focuses on several of California's National Parks and Monuments, namely Yosemite, Sequoia, King's Canyon, Devil's Postpile, and Carrizo Plain. Yosemite is renowned for Yosemite Falls, among other sights, which boasts a vertical drop of more than 2,400 feet, making it one of the biggest waterfalls in North America and among the top five in the world. Viewers will also see the last natural stand of Sequoia trees in Sequoia National Park, including the General Sherman, which is more than 2,000 years old and has a base measuring 109 feet around. And the Devil's Postpile National Monument features striking columnar formations of basalt that reach heights of 60 feet. Sure to appeal to armchair travelers.