It may feel like we're still in the middle of summer, but for many local kids it's back-to-school time already. While they get ready for a new school year, you can join in by trying one of these great books set in prep schools, colleges, and boarding schools.
The Secret Place by Tana French
Detective Stephen Moran has been waiting for his chance to get a foot in the door of Dublin's Murder Squad—and one morning, sixteen-year-old Holly Mackey brings him a photo of a boy who was found murdered a year ago on the grounds of St. Kilda's School. "The Secret Place," a board where the girls at school can pin up their secrets anonymously, is normally a mishmash of gossip and covert cruelty, but today someone has used it to reignite the stalled investigation into the murder of handsome, popular Chris Harper. Stephen joins forces with the abrasive Detective Antoinette Conway to find out who and why.
But everything they discover leads them back to Holly's close-knit group of friends and their fierce enemies, a rival clique—and to the tangled web of relationships that bound all the girls to Chris Harper. Every step in their direction turns up the pressure. Antoinette Conway is already suspicious of Stephen's links to the Mackey family. St. Kilda's will go a long way to keep murder outside their walls. Holly's father, Detective Frank Mackey, is circling, ready to pounce if any of the new evidence points toward his daughter. And the private underworld of teenage girls can be more mysterious and more dangerous than either of the detectives imagined.
Skippy Dies by Paul Murray
Why does Skippy, a fourteen-year-old boy at Dublin's venerable Seabrook College, end up dead on the floor of the local doughnut shop?
Could it have something to do with his friend Ruprecht Van Doren, an overweight genius who is determined to open a portal into a parallel universe using ten-dimensional string theory?
Could it involve Carl, the teenage drug dealer and borderline psychotic who is Skippy's rival in love?
Or could "the Automator"—the ruthless, smooth-talking headmaster intent on modernizing the school—have something to hide?
Why Skippy dies and what happens next is the subject of this dazzling and uproarious novel, unraveling a mystery that links the boys of Seabrook College to their parents and teachers in ways nobody could have imagined. With a cast of characters that ranges from hip-hop-loving fourteen-year-old Eoin "MC Sexecutioner" Flynn to basketballplaying midget Philip Kilfether, packed with questions and answers on everything from Ritalin, to M-theory, to bungee jumping, to the hidden meaning of the poetry of Robert Frost, Skippy Dies is a heartfelt, hilarious portrait of the pain, joy, and occasional beauty of adolescence, and a tragic depiction of a world always happy to sacrifice its weakest members.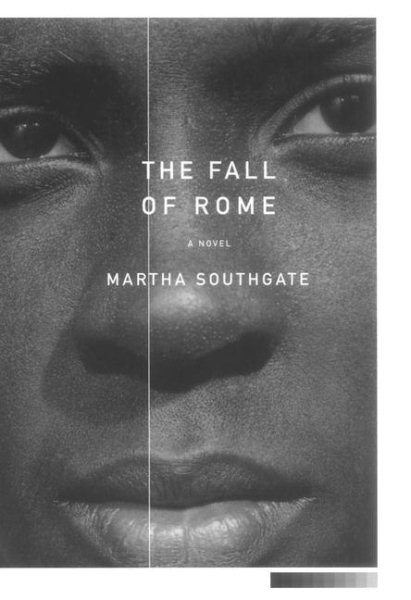 The Fall of Rome by Martha Southgate
Latin instructor Jerome Washington is a man out of place. The lone African-American teacher at the Chelsea School, an all-boys boarding school in Connecticut, he has championed the classical virtues of rigor and discipline since he was hired nearly two decades ago. Nicknamed "Wooden Washington" by his students, he has spent his career – and his life – at Chelsea trying not to appear too "racial": He is reserved, controlled, seemingly content with his isolated life.
Into his classroom one autumn morning steps Rashid Bryson, a promising African-American student from New York City. He sees in Washington a potential ally, a man who is sure to understand the younger man's need to find his bearings in this citadel of the white status quo. But to Bryson's surprise and dismay, Washington responds unexpectedly to him. It is up to Jana Hansen, herself a newcomer to Chelsea, to come to Bryson's aid. A middle-aged white divorcee who used to teach public school in Cleveland, she is as foreign to the sylvan self-possession of the Chelsea School as Washington and Bryson are.
As the three get to know one another, and as they struggle with their individual loss, they begin their journey toward an inevitable and ultimately tragic confrontation that is both painful and life-altering. Told from three different perspectives, The Fall of Rome explores powerful and timely issues as it unfolds inexorably, like the classical tragedies that were the glory of ancient civilizations.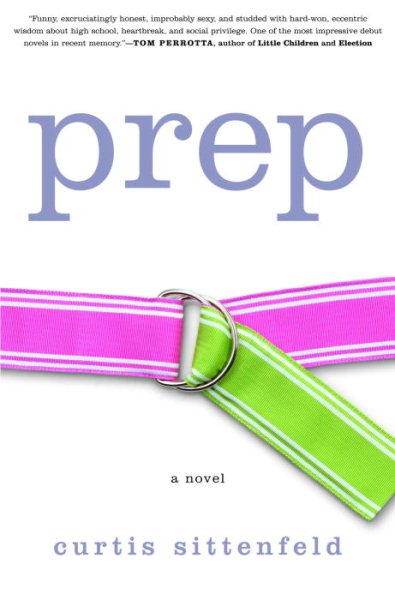 Prep by Curtis Sittenfield
Lee Fiora is an intelligent, observant fourteen-year-old when her father drops her off in front of her dorm at the prestigious Ault School in Massachusetts. She leaves her animated, affectionate family in South Bend, Indiana, at least in part because of the boarding school's glossy brochure, in which boys in sweaters chat in front of old brick buildings, girls in kilts hold lacrosse sticks on pristinely mown athletic fields, and everyone sings hymns in chapel.
As Lee soon learns, Ault is a cloistered world of jaded, attractive teenagers who spend summers on Nantucket and speak in their own clever shorthand. Both intimidated and fascinated by her classmates, Lee becomes a shrewd observer of–and, ultimately, a participant in–their rituals and mores. As a scholarship student, she constantly feels like an outsider and is both drawn to and repelled by other loners. By the time she's a senior, Lee has created a hard-won place for herself at Ault. But when her behavior takes a self-destructive and highly public turn, her carefully crafted identity within the community is shattered.
Ultimately, Lee's experiences–complicated relationships with teachers; intense friendships with other girls; an all-consuming preoccupation with a classmate who is less than a boyfriend and more than a crush; conflicts with her parents, from whom Lee feels increasingly distant, coalesce into a singular portrait of the painful and thrilling adolescence universal to us all.
The Secret History by Donna Tartt
These are the confessions, years afterward, of a young man who found at a small Vermont college the life of privilege and intellect he'd long coveted – and rarely has the glorious experience of youth infatuated with knowledge and with itself been so achingly realized. Then, amazed, Richard Papen is drawn into the ultimate inner circle: five students, worldly and self-assured, selected by a charismatic classics professor to participate in the search for truth and beauty. Together they study the mysteries of ancient Greek culture and spend long weekends at an old country house, reading, boating, basking in an Indian summer that stretches late into autumn.
Mesmerized by his new comrades, Richard is unaware of the crime which they have committed in his dreamy, unwitting presence. But once taken into their confidence, he and the others slowly and inevitably begin to believe in the necessity of murdering the one classmate and friend who might betray both their secret and their future.
Hugely ambitious and compulsively readable, this is a chronicle of deception and complicity, of Dionysian abandon, of innocence corrupted by self-love and moral arrogance; and, finally, it is a story of guilt and responsibility.
Old School by Tobias Wolff
Determined to fit in at his New England prep school, the narrator has learned to mimic the bearing and manners of his adoptive tribe while concealing as much as possible about himself. His final year, however, unravels everything he's achieved, and steers his destiny in directions no one could have predicted.
The school's mystique is rooted in Literature, and for many boys this becomes an obsession, editing the review and competing for the attention of visiting writers whose fame helps to perpetuate the tradition. Robert Frost, soon to appear at JFK's inauguration, is far less controversial than the next visitor, Ayn Rand. But the final guest is one whose blessing a young writer would do almost anything to gain.